Ad blocker interference detected!
Wikia is a free-to-use site that makes money from advertising. We have a modified experience for viewers using ad blockers

Wikia is not accessible if you've made further modifications. Remove the custom ad blocker rule(s) and the page will load as expected.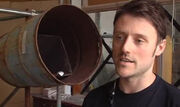 Danny Hargreaves is a BBC Wales special effects supervisor. He has worked extensively on Doctor Who, The Sarah Jane Adventures and Torchwood. He is a frequent interviewee on Doctor Who Confidential and Torchwood Declassified. He was even one of the rare backstage people to appear on Totally Doctor Who. As a result of these appearances, he has become the de facto "public face" of Doctor Who SFX.
His personal credits have largely vanished in the Steven Moffat era, but as of series 7, his company, Real SFX, was very much still involved in the process of making Doctor Who.
As SFX supervisor
Edit
As SFX technician
Edit
External links
Edit