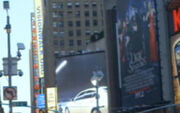 Dark Shadows was a film starring Johnny Depp, which came out on 11 May 2012. A large advertisement for the film was on the side of a building in Times Square. (TV: The Angels Take Manhattan)
Behind the scenes
Edit
This film (directed by Tim Burton, written by Seth Grahame-Smith) is based on the television series Dark Shadows (1966-1971), starring David Selby. Since 2006, Big Finish have continued that series in the form of audio dramas. Selby reprised his role for the BF range. David Warner played the primary antagonist in series 2 of Big Finish Dark Shadows.
External links
Edit
Big Finish
Edit
Ad blocker interference detected!
Wikia is a free-to-use site that makes money from advertising. We have a modified experience for viewers using ad blockers

Wikia is not accessible if you've made further modifications. Remove the custom ad blocker rule(s) and the page will load as expected.