Death and the Daleks was the final audio story of the fourth season of the Big Finish Bernice Summerfield series. It was promoted under the title The Axis of Evil to keep the secret of the Daleks' involvement in this story.
It was unusual, though not unique, in that it began with a "previously on Bernice Summerfield" segment, which brought listeners up to speed with some continuity notes about the Braxiatel Collection covered in the prose anthology Life During Wartime.
Written by Benny's creator Paul Cornell, this story revisited the planet Heaven, the planet where she first met the Doctor. This story also revealed greater details about the Fifth Axis, a group first introduced in The Doomsday Manuscript, the first full length Big Finish Bernice Summerfield novel published in 2000. It also debuted Benny's father on audio.
It was an unusual length, the first 2 CD Bernice Summerfield audio story since Just War and the only original Bernice Summerfield audio story to be 2 CDs long as of June 2013 .
The second CD also includes the bonus story Closure.
Publisher's summary
Edit
The Braxiatel Collection has been occupied by the Fifth Axis, who seem to be led by a figure from Bernice's past. Behind this mysterious man lies the evil time-travelling power of the Daleks.
As Bernice's friends rise up to end the occupation, Bernice embarks on a desperate rescue mission, to somewhere she last went long ago.
Braxiatel confronts his destiny, Jason risks all for his love, and lives are shattered and lost, as the battle of the Braxiatel Collection reaches its epic conclusion.
Our heroes will live free or die...
to be added
References
Edit
Foods and beverages
Edit
Benny mocks the Daleks stating they couldn't "exterminate [their] way out of a tomato".
Individuals
Edit
Marshal Anson mentions the Hoothi when speaking of Heaven.
Joseph delivers a message from Bernice to Braxiatel which reads "Doubtless Anyone Listening Expects Kind Sentiment" to alert him to who are really pulling the strings.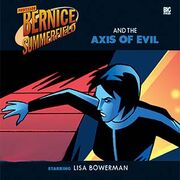 To keep the secret of the Daleks' involvement in this audio, Big Finish released a fake cover for this audio (on their website) under the title The Axis of Evil.
This audio drama was recorded on 14 December 2003.
Continuity
Edit
External links
Edit