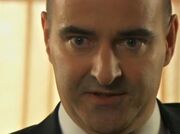 The Deputy Prime Minister was an official in the Cabinet of the United Kingdom.
Sir Robert Devere arranged a series of assassinations in 1963 to create vacancies in the Cabinet so that Sir Francis White would be appointed Defence Secretary and Devere become the Deputy Prime Minister. (AUDIO: 1963: The Assassination Games)
In 1999, Philip Cotton was the Deputy Prime Minister under Terry Brooks. (PROSE: Millennium Shock)
In the 2000s, Meena Cartwright was the Deputy Prime Minister until she was assassinated by ICIS. (AUDIO: The Longest Night)
In 2009, Rick Yates was the Deputy Prime Minister and Foreign Secretary under Brian Green during the negotiations with the 456. (TV: Children of Earth: Day Four, Children of Earth: Day Five)
Ad blocker interference detected!
Wikia is a free-to-use site that makes money from advertising. We have a modified experience for viewers using ad blockers

Wikia is not accessible if you've made further modifications. Remove the custom ad blocker rule(s) and the page will load as expected.