Ad blocker interference detected!
Wikia is a free-to-use site that makes money from advertising. We have a modified experience for viewers using ad blockers

Wikia is not accessible if you've made further modifications. Remove the custom ad blocker rule(s) and the page will load as expected.
Devina Collins was the wife of Lloyd Collins and the mother of Jess and Maxwell Collins. When the Twelfth Doctor was stuck in 1972 without a working TARDIS, he lived with the Collins and became good friends with Devina. (COMIC: Moving In)
Over a decade before the 1970s, Devina came to Great Britain from Jamaica. During the voyage, she met Lloyd Collins and fell in love. Buying a house in London, they married and had two children: Jessica and Maxwell.
In 1972, six months after her daughter encountered the Twelfth Doctor, Devina went to Kings College Hospital when she heard Lloyd was being kept there. She met the Doctor, who was there with Jess. The Doctor told her to comfort Lloyd while he and Jess investigated the spaceship that Lloyd's disease originated from.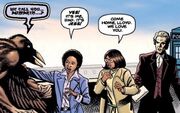 As the Doctor and Jess were gone, Lloyd began transforming into a bird monster. When they returned he had fully transformed. Lloyd went berserk and Devina and the Doctor were knocked off their feet. Lloyd then grabbed Jess annd flew out a window. Devina and the Doctor followed Lloyd until he landed on the roof of a building. Using one of his devices, the Doctor let Devina and Jess psychically comunicate with Lloyd and remind him who he really was. When that didn't work, the Doctor took things into his own hands and cured Lloyd and everyone else that had been infected at the cost of sacrificing his TARDIS.
Two days later, the Doctor visited Jess and told her that his TARDIS would repair itself, but it take a while. Devina overheard this and invited the Doctor to live with them while he was stuck on Earth. (COMIC: The Pestilent Heart)
The next day, Devina walked in on the Doctor trying to improve her stew. Devina insisted her stew couldn't be better, and when the Doctor tried to make it better with umamium particles and molecular excitation, it turned green and exploded. With the kitchen splattered in green stew, Devina almost kicked the Doctor out, but he quickly cleaned it all up and handmade a new stew which Devina found acceptable. (COMIC: Moving In)
Companions of the Twelfth Doctor

Original to television
Original to prose
Original to comics

Original to video games
If a medium is not mentioned, then this incarnation did not have companions who were original to that medium; it does not mean that this Doctor failed to appear in that medium.