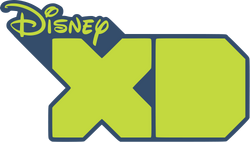 Disney XD is a brand of children's television channels with different channels broadcast worldwide. Disney XD started broadcasting K9 in early 2010 at varied times according to the country in which it was broadcast.
On 15 April 2015, Disney XD picked up the rights to Doctor Who's second, third, and fourth series. The show began airing on Disney XD on June 13, 2015, with a preview that aired on May 9, 2015.[1]
Footnotes
Edit
Ad blocker interference detected!
Wikia is a free-to-use site that makes money from advertising. We have a modified experience for viewers using ad blockers

Wikia is not accessible if you've made further modifications. Remove the custom ad blocker rule(s) and the page will load as expected.