This is a work of non-fiction.
Unlike other fictional universes, the Doctor Who universe is created solely by fiction. To us, this is not a valid source. Information from this source can only be used in "behind the scenes" sections, or on pages about real world topics.
Doctor Who: The Encyclopedia is a reference book as well as an interactive reference app about Doctor Who and related programs.
Book version
The first version of the Encyclopedia was a reference book, containing an alphabetical list of everything in the first three years of televised Doctor Who after its revival. It included references from all episodes from the first three series, including the Christmas specials. It also included the Tardisodes of Series 2, the animated story The Infinite Quest, and the prologue to 42.
Publisher's summary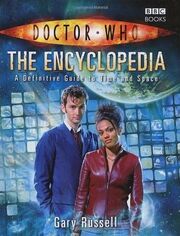 There's no need to search Time and Space – it's all right here. From Autons to Anne Droid, from Cat Nuns to Canary Wharf, from the Moon to the Master... everything you need to know about everything you didn't know you needed to know about Doctor Who.
Subject matter
Notable features
1,700 entries and 90,000 words
Gary Russell's introduction includes a list of possible entries for a second edition, most likely teases as they are deemed worthy of inclusion.
2011 update
Notes
In Doctor Who Magazine issue 388, Russell T. Davies in his regular page discusses the entry Cruciform. Gary had assumed from the Master's words, "I was there when the Dalek Emperor took control of the Cruciform," that it had occurred on Gallifrey because of the context. Russell T. Davies was clear in his own mind that it wasn't, that the Cruciform was "more terrible than I can say, of a scale and ferocity that's absolutely untransmittable on prime-time," a larger part of the "disgusting, horrific, temporal hell" that was the Time War.
This non-jacketed hardback with a photographic cover was priced £14.99 (UK).
In January 2014 the official website for Russell T Davies' book The Writer's Tale was discontinued, and the web domain redirected to that for the Doctor Who: The Encyclopedia app.
Errors
Credits
App version
In 2012 an app version of the book was made available for tablet devices. It featured an interactive reference guide with sections dedicated to specific areas of the TV show. An official website was launched for the app.
A new edition of the app was published in December 2012, incorporating material through Part 1 of Series 7.
External link