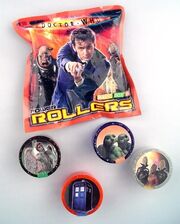 Launched in the UK (May 2008) by Magic Box International, Power Rollers was described as "a new and unique collectible game concept. It is aimed at boys and girls aged from 5-14."
Power Rollers were sold in packs of two for £1.50 (UK), and a TARDIS Rollers Box (with a detachable top) was also made available for the price of £3.50 (UK). Each TARDIS Rollers Box included a free pack of Doctor Who Power Rollers and a double sided checklist of all available Doctor Who Power Roller to collect inside.
A Power Roller is a large ball-bearing, mounted in a silver flecked coloured plastic shell featuring one of sixty different Doctor Who images on top and a side sticker displaying the Doctor Who logo, roller number and the image name.
The ball-bearing allow the Power Rollers to be freely rolled along a flat surface in one of two games suggested on the packets cover "Game 1: 'Play your Roller Closest to the Target Wins', Game 2 'Roll, Knock out your Opponents!'
To promote the Power Rollers, a packet of Doctor Who Power Rollers was given away free with Doctor Who Adventures Issue 72.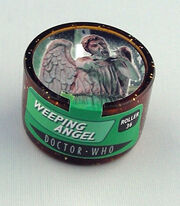 Doctor Who Power Rollers (1-60)
Edit
Ad blocker interference detected!
Wikia is a free-to-use site that makes money from advertising. We have a modified experience for viewers using ad blockers

Wikia is not accessible if you've made further modifications. Remove the custom ad blocker rule(s) and the page will load as expected.