Win stuff for editing here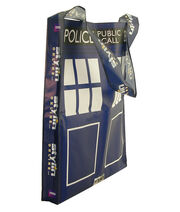 You don't know it, but we've been running a contest since
23 August
. See that list of top editors to the right? It's been calculating your edits since the premiere of
Deep Breath
. And it'll keep on doing that until
Friday
3 October
. Whoever is at the top of the list — that is, whoever has made the most edits in the main
namespace
— will win this great
TARDIS
bag from this year's San Diego Comic Con!
And if you feel like you're a little late to the party, don't worry. We're having another editing contest for the second half of the series, too! And here's a head's up for that contest: it runs from 26 September until the Friday after the series 8 finale in November. So your edits from 26 September to 3 October count in both contests!
[You'll probably want to read these rules first though, cause they govern the current contest, and are basically true of the next one.]
Go live with some otters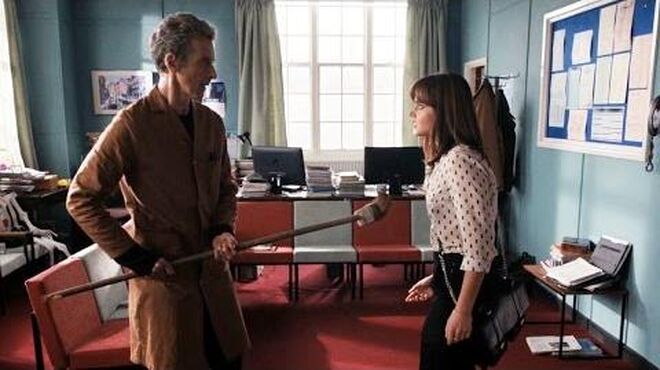 Last time, on Doctor Who

01:17

Meet the Gang! - 'Time Heist' Preview - Doctor Who Series 8 - BBC

00:30

Are We Ever Alone? - 'Listen' Preview - Doctor Who - Series 8 - BBC
We define spoiler to be any information — be it narrative or behind-the-scenes — which surrounds any story in any medium that has not yet been released. It doesn't matter if the source is The Sun or the British Broadcasting Corporation — it's a violation of our policies to write about un-released stories, or the casting and crewing of those adventures.
Remember, we're not a news site. We're an encyclopaedia. Our focus is on what has already happened in the DWU, not what is to come.
In order to uphold this policy in 2014, we will occasionally have to restrict editing to only those people who have accounts. If you want to guarantee yourself the ability to edit once Peter Capaldi starts his run, we strongly recommend that you sign up for a totally free account today.
For clarity, information about any episode of the series is not allowed before roughly 9pm British time on the
Saturday
of transmission.
We will honour that deadline in our social media feeds, as well. And we will never give away major spoilers in social media. But if you live in, say, Alaska, yore going to be a few hours behind London. Our editing restrictions end before you will have seen the current episode. Plan accordingly.
Dig deeper with this wiki's content:
By subject
:
Characters
• 
Locations
•
Technology
•
Species
By series
:
Doctor Who
• 
Torchwood
• 
Sarah Jane
• 
K9



Doctor Who
is a "family franchise", which means there's something in it for all ages.
It does not mean that all content is appropriate for all ages.
Doctor Who, Torchwood, The Sarah Jane Adventures, K9 and Company, K9 "the TARDIS", the sonic screwdriver, psychic paper, the Daleks, the Cybermen, the K9 prop — and all characters, concepts and situations described and displayed on this wiki— are © and or ™ the British Broadcasting Corporation, BBC Worldwide, Metal Mutt Productions and/or their individual creators and licensees. No infringement of any entity's legal rights is intended. Strenuous effort is made to ensure that only low-resolution still images — and videos released by copyright holders in their public social media channels — are uploaded here, so as to protect the copyright holders' legitimate interests. In simpler language: we're just fans doing our best to catalogue the franchise we love, without hurting the financial position of any of its owners.