Article of the minute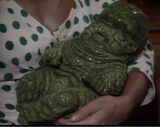 Introduced in the
1987
Doctor Who
television story,
Delta and the Bannermen
, the
Chimeron
were a race of
humanoids
who were nearly wiped out by the
Bannermen
. They were notable for their unusual maturation cycle, which saw them grow from green, wrinkly, barely-humanoid babies into adults that were largely indistinguishable from
humans
.
Read more...
✍
---
Don't like this article? Reload the page for another one!
Quote of the minute
Fifth Doctor: Hold still. (Doctor snaps a photograph) There you are.
Tourist: Thank you, thanks very much!
Fifth Doctor: My pleasure. Have a nice day!
Turlough: Doctor, that's the fourth picture you've taken for someone else.
Fifth Doctor: People come a long way for this view, Turlough
Turlough: That's the reason we came, too. Remember?
Fifth Doctor: Yes. They say the Corcovado statue is the best place to see Rio. Amazing, isn't it? And now the smokes of the 2020s have lifted ...
Don't like this quote? Reload the page to get a different one! ✍
Latest news
Loading RSS data...
Did you know . . .
... that Kera-Bera Beasts were parasites who got close to their victims by creating illusory images of themselves to endear themselves to their targets? (COMIC: The Stray)
Don't like these facts? Reload the page to get new ones!
✍
Popular categories
If you're new to wikis, it might be helpful for you to take note of the concept of categories. Categories are the principal organizing tool on a wiki, allowing users to group information in ways that can ease the discovery of information. All the pages on our wiki are found, ultimately, in just four big "super categories". If this is your first visit here, please go to Floor 500 for a discussion of the way our wiki is organized. ✍

Real world
On our wiki, the world we actually live in is called the "real world" . As such, information about the production of Doctor Who and her sister shows are in this category. This includes pages about the actual televised episodes themselves, the behind-the-scenes personnel, terminology used by the production teams, and merchandise related to the shows.
Time-Space Visualiser
The Time-Space Visualiser is the place where most of this wiki's pages reside. All the articles are written from an in-universe perspective, quite different to what you might be used to on Wikipedia. Here you'll find information related to The Doctor, his companions, Other individuals, astronomical objects, time travel, species, locations, science, culture, and a whole host of other subjects.
Non-DWU material
Notwithstanding writer Paul Cornell's famous comments that denounced the concept of "canon" in Doctor Who, our canon policy does deem a few things to be outside the Doctor Who universe. For examples, visit: stories, characters, technology, species, and locations.
The Hub
This category contains articles having to do with the actual running of the wiki. It's full of all those little pages that help the wiki work. As such, it isn't accessed often by most users. However, more advanced editors might wish to peruse the templates category for ways to make their editing easier. Or if you're looking for a place to start editing on the wiki, you might want to look at articles that need updating, major expansion, general copy-editing, sectional cleanup, and re-writing from an in-universe perspective.
The latest forum discussions
Begun

Topic

Last edit

Last author

From the Panopticon




Important tech notes
April 4, 2011
Tech note: Image use policy change
02:58, May 1, 2013
CzechBot
June 11, 2011
Monobook fans: read this
01:30, April 26, 2013
CzechBot
May 31, 2012
DWIA images deleted
01:40, January 5, 2013
CzechBot
September 1, 2012
Timeline deletion
19:31, December 19, 2012
CzechBot
May 15, 2012
EVERYONE READ: Some infobox variables being upgraded to SMW links
04:59, December 12, 2012
CzechOut
From the reference desk



Fast Facts
Do you know your assistant directors? Sure, you might be able to rattle off directors — but how's your knowledge of the people who are really on the front lines of Doctor Who production. Read more about the working class stiffs who go by the enigmatic titles of 1st AD, 2nd AD and 3rd AD.

Come back next week for another list of fast facts! ✍
Other Doctor Who wikis
| | | |
| --- | --- | --- |
| Other Doctor Who wikis are available, each with their own particular focus. Visit our sister Doctor Who wikis for coverage of different aspects of Doctor Who fandom. ✍ | | |
In other languages
| | | |
| --- | --- | --- |
| You aren't limited to English if you're looking for Doctor Who content on Wikia! There are wikis with more than 30 pages in the following languages: | | In addition, there are several wikis which have been created, but which have no more than 29 pages of content. |
If you are a fluent writer in one of these languages, we encourage you to join one of these wikis. If it's inactive, we urge you to formally adopt it. Just fill out the Special:Contact form on that wiki and request administrator status.
Quick stats about this wiki
Software: MediaWiki 1.19.6 • Pages: 102,981 • Edits: 1,431,296 • Active editors: 448 • Admins: 23