Article of the minute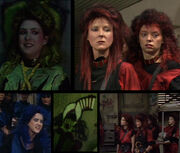 "Kang"
was the name taken by young women living in
Paradise Towers
. By the time the
Seventh Doctor
and
Mel
visited Paradise Towers, there were three denominations of Kang living there, namely:
Red Kangs
,
Blue Kangs
and
Yellow Kangs
. Each was only distinguishable by the colour of their hair and clothing with the three groups adopting the same general mannerisms. Kangs competed against one another, with the ultimate objective being to enter another group's
brainquarters
. Despite, this they never harmed one another. The Kangs were disliked by the
Caretakers
as they frequently created
wallscrawls
. This led to them being nicknamed "wallscrawlers". The Kangs also performed various dances round certain structures. They carried
arrow guns
as their primary weapon, but never used them against one another.
Read more
.
✍
---
Don't like this article? Reload the page for another one!
Quote of the minute
Mike Yates: Sorry, Doctor. I'm supposed to have permission from the Brig before I leave the country, let alone before I leave the planet. I'd love to come along, but I think I'll have –
Mike Yates: (hesitantly) Are you sure this is quite safe, Doctor? There won't be any complications? I need to report for duty at six o'clock tomorrow morning, you know.
Third Doctor: Complications? My dear chip, I've no idea what you mean! Don't worry, I've checked the coordinates three times. Nothing can possibly go wrong.
Don't like this quote? Reload the page to get a different one! ✍
Latest news
Loading RSS data...
Did you know . . .
... that Kera-Bera Beasts were parasites who got close to their victims by creating illusory images of themselves to endear themselves to their targets? (COMIC: The Stray)
Don't like these facts? Reload the page to get new ones!
✍