Doctor Who and the Pirates (audio story)
Talk

0
32,723
articles in progress

Doctor Who and the Pirates, or The Lass that Lost a Sailor, was the forty-third monthly Doctor Who audio story produced by Big Finish Productions it was also Big Finish Productions' first musical audio story. It has a score inspired by Gilbert and Sullivan songs.
Publisher's summary
Edit
All aboard, me hearties, for a rip-roaring tale of adventure on the high seas!
There'll be rum for all and sea shanties galore as we travel back in time to join the valiant crew of the good ship Sea Eagle, braving perils, pirates and a peripatetic old sea-dog known only as the Doctor!
Gasp as our Gallifreyan buccaneer crosses swords with the fearsome Red Jasper, scourge of the seven seas and possessor of at least one wooden leg! Thrill as Evil Evelyn the Pirate Queen sets sail in search of buried treasure, with only a foppish ship's captain and an innocent young cabin boy by her side! Marvel at the melodious mayhem which ensues as we sail the ocean blue!
And wonder why Evelyn still hasn't realised that very few stories have happy endings...
to be added
References
Edit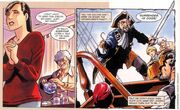 This audio drama has three conceivable titles:
The subtitle "The Lass that Lost a Sailor" suggests the subtitle of Gilbert & Sullivan's HMS Pinafore, "The Lass Who Loved a Sailor".
In addition to a number of Gilbert and Sullivan inspired songs, Part 4 ends with a pirate-themed version of the traditional end music.
This audio drama was recorded on 22, 23 and 24 January 2003 at The Moat Studios.
Continuity
Edit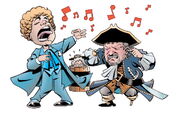 External links
Edit
Big Finish monthly releases
All stories of the main monthly range are included in this navigation box including the "subscriber only" stories which are part of Big Finish Productions' subscription for this range. All other stories are represented in other navigation boxes.