Doctor Who conventions are events celebrating and focusing on Doctor Who generally centred at one location. Conventions often feature guest appearances by former actors, writers, producers and anyone else connected with the show. On occasion these are used to promote new aspects of the show or for fans to meet producers of content.
The first convention was organised in 1977, by the Doctor Who Appreciation Society. This would retroactively be deemed the first PanoptiCon.[1]
Doctor Who Twentieth Anniversary Event 1983
Edit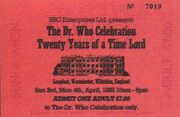 This was a phenomenally successful two-day event held over the Easter Bank Holiday Weekend in April at Longleat House.
Longleat House was chosen as the venue to stage this event largely because of the space available.
50,000 people were expected to attend – 35,000 turned up on the first day alone. Packed to capacity, even more people were turned away at the gate.
Notable conventions
Edit
Footnotes
Edit
Ad blocker interference detected!
Wikia is a free-to-use site that makes money from advertising. We have a modified experience for viewers using ad blockers

Wikia is not accessible if you've made further modifications. Remove the custom ad blocker rule(s) and the page will load as expected.