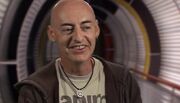 Dominic Glynn composed the incidental music for The Mysterious Planet, The Ultimate Foe, Dragonfire, The Happiness Patrol and Survival.
He also composed a new arrangement of the Doctor Who theme for use in season 23. This became the main theme on Big Finish Productions audio plays featuring the Sixth Doctor.
External link
Edit
Ad blocker interference detected!
Wikia is a free-to-use site that makes money from advertising. We have a modified experience for viewers using ad blockers

Wikia is not accessible if you've made further modifications. Remove the custom ad blocker rule(s) and the page will load as expected.