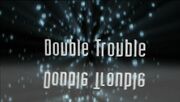 You may wish to consult Double Trouble for other, similarly-named pages.
Double Trouble is a BBC documentary on the shows in which an actor plays two parts. It was released on the DVD of The Androids of Tara in The Key to Time box set. The documentary neglects Black Orchid, where Sarah Sutton played both Nyssa and Ann Talbot.
Ad blocker interference detected!
Wikia is a free-to-use site that makes money from advertising. We have a modified experience for viewers using ad blockers

Wikia is not accessible if you've made further modifications. Remove the custom ad blocker rule(s) and the page will load as expected.