Ad blocker interference detected!
Wikia is a free-to-use site that makes money from advertising. We have a modified experience for viewers using ad blockers

Wikia is not accessible if you've made further modifications. Remove the custom ad blocker rule(s) and the page will load as expected.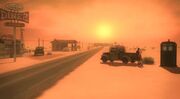 Dry Springs was a town in the state of Nevada, located within helicopter distance of Area 51. Cassie Rice was a waitress at her mother's diner there, and Jimmy Stalkingwolf was a ranch hand on local spreads. Shortly after the Tenth Doctor's arrival in 1958, it was attacked by a Viperox battle drone and representatives of the Alliance of Shades. Ultimately, the town sustained a major Viperox attack, and was essentially destroyed. (TV: Dreamland)
Behind the scenes
Edit
Dry Springs is not a real town in Nevada, according to current postal code records.