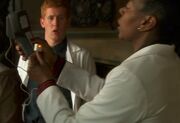 The EMF meter, or EMF reader, measured fluctuations in an electro-magnetic field, which could be caused by paranormal or alien activity.
Toby Silverman and Celeste Rivers used the EMF meter to detect aliens and ghosts. (TV: The Eternity Trap)
EMF readers were used on Most Haunted ghost hunting television show. Miss Quill had several EMF meters and brought them to investigate the old stone house in Shoreditch. (PROSE: The Stone House)
Ad blocker interference detected!
Wikia is a free-to-use site that makes money from advertising. We have a modified experience for viewers using ad blockers

Wikia is not accessible if you've made further modifications. Remove the custom ad blocker rule(s) and the page will load as expected.