Ad blocker interference detected!
Wikia is a free-to-use site that makes money from advertising. We have a modified experience for viewers using ad blockers

Wikia is not accessible if you've made further modifications. Remove the custom ad blocker rule(s) and the page will load as expected.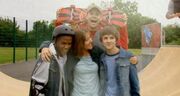 The Ealing Palace Park was a big park in Ealing. It had a skateboard park, football fields and many things more. A lot of couples went to the park or people who took their dogs for a walk. (PROSE: Whatever Happened to Sarah Jane?)
In 2008 Sarah Jane Smith, Luke Smith, Maria Jackson, Alan Jackson and Clyde Langer were visiting the park. Clyde and Alan were skateboarding. The Trickster watched them, preparing to erase the older Sarah Jane from history, by letting her die in 1964 instead of her friend Andrea Yates.
In an alternative reality the park was visited by Andrea Yates, Maria Jackson, Alan Jackson and Clyde Langer. (TV: Whatever Happened to Sarah Jane?)