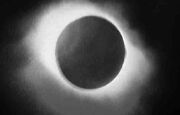 An eclipse was, according to what Autloc once told Barbara, when the Moon passed before the sun and caused darkness.
Aztec tradition required that during an eclipse, a human sacrifice — indeed, the "Perfect Victim" — be given to the Sun God. (TV: "The Bride of Sacrifice")
In 1794 France, the First Doctor, as part of his plan to escape from a road works overseer, claimed that there would be an eclipse, distracting the overseer long enough for the Doctor to take some money from his purse. (TV: "Guests of Madame Guillotine")
In 2400, the Daleks planned to use a solar eclipse in a plan to destroy Earth, but were defeated. (COMIC: Battle for the Moon)
All three suns of the Planet of Light were eclipsed once every three hundred years, resulting in a brief period of darkness which caused the inhabitants to go insane with fear and destroy their civilisation. (COMIC: World Without Night)
Ad blocker interference detected!
Wikia is a free-to-use site that makes money from advertising. We have a modified experience for viewers using ad blockers

Wikia is not accessible if you've made further modifications. Remove the custom ad blocker rule(s) and the page will load as expected.