Professor
Edward Travers
CBE
was a British
anthropologist
and
explorer
.
Edward was born to Lyndon Travers. (PROSE: One Cold Step)
In 1935, Travers set out on an expedition to Tibet to find the Yeti. At first suspicious of the Second Doctor, he eventually aided him in defeating the Great Intelligence. (TV: The Abominable Snowmen)
Travers brought back one of the robot Yeti used by the Intelligence, but money problems eventually forced him to sell it to Julius Silverstein for his private museum — though Travers kept the Yeti's control sphere. (TV: The Web of Fear)
Travers later married Margaret Goff. He became quite enamoured with eccentric Goffs, a family with whom the Travers shared a lot of bad blood. It was hoped their marriage would heal some wound, but instead he distanced himself from his own family. Margaret and he had a son, Alun, in 1936, and in 1938 a daughter, Anne. His wife passed away when Anne was very young. As a result, during the 1940s, Travers often left his children with his brother-in-law, Sebastian Goff, and his wife, while he did secret work for the British military arm, the Fourth Operational Corps. (PROSE: One Cold Step)
In the 1960s, Travers met postgraduate student James Rafferty, and took him into his confidence regarding a Yeti control sphere. (PROSE: The Dimension Riders)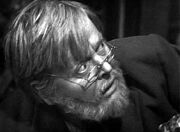 Travers eventually succeeded in reactivating one of the Yeti's control spheres, which led to the Intelligence attacking London. He and Anne assisted the Doctor and the army task force led by Colonel Lethbridge-Stewart in defeating the Intelligence once more. (TV: The Web of Fear)
Four years later, the Doctor tried to contact Travers again, but learned from Isobel Watkins that he and Anne had gone to spend a year in the United States. (TV: The Invasion)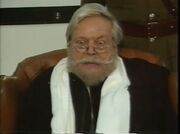 Travers spent years trying to learn all he could about the Intelligence, even researching at the Library of St John the Beheaded. His reputation was ruined by Ashley Chapel. (PROSE: Millennial Rites)
Travers died on 25 December 1980 after spending his last few years living in isolation in Tibet. His reanimated corpse was used as a host for the Great Intelligence in 1995, posing as the chancellor of New World University, as part of its plan to conquer Earth by infecting the global network of computers. (HOMEVID: Downtime)
Other realities
Edit
In the Inferno Earth, Edward Travers died in an avalanche while searching for Yetis in 1935. (PROSE: The Schizoid Earth)
Ad blocker interference detected!
Wikia is a free-to-use site that makes money from advertising. We have a modified experience for viewers using ad blockers

Wikia is not accessible if you've made further modifications. Remove the custom ad blocker rule(s) and the page will load as expected.