Embrace the Darkness (audio story)
Talk

0
39,503
articles in progress
Embrace the Darkness
was the thirty-first
monthly Doctor Who audio story
produced by
Big Finish Productions
. It was the fourth in a series of six audio stories featuring the
Eighth Doctor
. It featured the
Paul McGann
as the Eighth Doctor and
India Fisher
as
Charlotte Pollard
.
Publisher's summary
The Doctor and Charley travel to the remote Cimmerian System to unravel the mystery of its sun. But darkness has already embraced the scientific base on Cimmeria IV in more ways than one.
In a fight for survival, the Doctor must use all his wits against a deadly artificial life-form and an ancient race whose return to the Cimmerian System threatens suffering and death on an apocalyptic scale.
Plot
to be added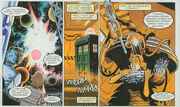 Cast
References
The Doctor
The Doctor refers to Charley as his best friend.
The Doctor tells Orllensa that he has spent much of his life being told that he was mad.
Biology
TARDIS
Technology
ROSM is an acronym for Rescue Operational Security Module. It was designed by Professor Astrov.
Humans once used ships equipped with solar sails to navigate through space. This practice was later documented on history vids.
Charley refers to ROSM as a "talking adding machine."
Species
The Doctor is aware of several species who refer to themselves as the Solarians.
According to the Doctor, every civilisation has legends of healers who can cure illness and infirmity by touch.
Planets
Cultural references from the real world
Charley refers to watching the yachts coming in from the Cowes regatta.
The Doctor gives ROSM a non-sequitur answer "I have no bananas today." This is in reference to the 20th century song "Yes! We Have No Bananas".
The name "ROSM" is likely a reference to the play "R.U.R.", also known as "Rossum's Universal Robots", which is credited as introducing the word "robot" to the English language.
The name "Cimmeria" may be a reference to the homeland of Conan the Barbarian in the stories of Robert E. Howard.
Notes
Continuity
External links
Big Finish monthly releases
All stories of the main monthly range are included in this navigation box including the "subscriber only" stories which are part of Big Finish Productions' subscription for this range. All other stories are represented in other navigation boxes.