Empathy Games was the twelfth release in the Companion Chronicles audio range. It was the fourth story of season 3. It was written by Nigel Fairs and featured Leela.
Publisher's summary
Edit
The present: Leela is doomed, trapped inside a prison cell of a dead race.
The past: After a disaster aboard the TARDIS, the Fourth Doctor and Leela arrive at the capital city of Synchronis, a world renowned for peace and civility. But an attack by a vicious creature leaves the Doctor in a coma, and Leela is persuaded to fight in the forthcoming Empathy Games, where she discovers that nothing on this world is as it seems.
to be added
References
Edit
In the fire which destroys the secondary console room, the edges of the Doctor's scarf are burned.
The Waters of Empathy is one of the 700 Wonders of the Universe.
When an elder of the Sevateem dies, it is customary for other warriors to guard their body in order to protect their soul from evil spirits until sunrise.
The Doctor is able to induce himself into a coma.
As a child, Leela saw her mother struck down and killed by an animal on Mount Kremnon while protecting her.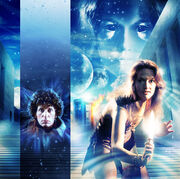 Continuity
Edit
External links
Edit