Enemy of the Bane (TV story)
Talk

3
32,723
articles in progress
Enemy of the Bane was the sixth and final serial in Series Two of The Sarah Jane Adventures. Mrs Wormwood, Kaagh and the Brigadier returned. The last had not appeared on television since the Doctor Who story Battlefield in 1989. This was to be the final televised appearance of the Brigadier. Nicholas Courtney died in 2011.
Synopsis
Edit
Gita Chandra is kidnapped by Mrs Wormwood. This turns out to be a snare for Sarah Jane. Mrs Wormwood has joined forces with another of Sarah Jane's enemies, Kaagh. As they prepare to settle old scores, Sarah Jane turns to an old friend.
Gita Chandra
is working late on a special floral commission. The client turns out to be
Mrs Wormwood
. She paralyses Gita, certain the disappearance of
Rani's
mum will lure
Sarah Jane Smith
to the case. At the same time,
Luke
has been having nightmares about Mrs Wormwood.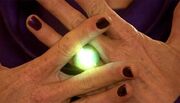 Rani realises her mum has vanished. Sarah Jane and Luke go to the Chandras' house and talk to her and Haresh about what happened. Rani suspects it could be aliens at work, but Sarah Jane says that it is not always aliens. People go missing all the time and come home safe.
Sarah Jane, Luke and Clyde head to Gita's shop, Bloomin' Lovely, to investigate while Sarah Jane uses her scanner watch to search for alien traces. Luke and Clyde find a cheque signed by Mrs Wormwood. Sarah Jane, Luke and Clyde go to see Mr Smith to get it scanned. There is a hidden code which offers clues to Mrs Wormwood's location. Sarah Jane and Rani go to rescue Gita, discussing the Bane and Bubble Shock on the way.
They find Gita unconscious and meet up with Mrs Wormwood. The former Bane operative explains she took the blame for her species' failed attempt at invading the Earth and has been exiled from her people and world. The Bane will eat her alive if they catch her.
When the Bane attack, Mrs Wormwood uses her phonic disruptor on them. It emits sound which penetrates their ears and stops them in their tracks. The Bane grab Sarah Jane by the leg, but Mrs Wormwood saves her, attacking the Bane with a metal pole. The three head back to Bannerman Road, shocking Luke when he opens the door.
They all go to the attic. Mr Smith does a bio-analysis on Mrs Wormwood, confirming she is Bane. Mr Smith asks if having her in the attic is a good idea. Sarah Jane asks Mr Smith to put a containment field around her if she causes trouble. Mrs Wormwood says that an ancient immortal, Horath, tried to take over the galaxy, but was defeated three thousand years ago. Unable to destroy him, Horath's captors separated his body and consciousness and placed them at opposite ends of the galaxy.
Mrs Wormwood says the Bane have found Horath's consciousness, and are trying to find his body, which is, like so many other things of galactic importance, on
Earth
. Once united, the Bane will be able to conquer the galaxy. The only clue to the body's location is in the
Tunguska Scroll
, kept in
UNIT
's
Black Archive
, a secure storehouse of alien artefacts.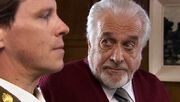 Sarah Jane visits her old friend, retired Brigadier Sir Alistair Gordon Lethbridge-Stewart, to get his help to enter the Archive. Sarah Jane and Rani obtain the Tunguska Scroll. UNIT personnel stop Sarah Jane, but she uses her sonic lipstick and escapes with Rani and the Brigadier. Meanwhile Luke talks to Mrs Wormwood. When the Bane attack the house, he releases her from the force field. She is about to escape when a Bane tries to eat her. Sontaran Commander Kaagh shoots it and reveals himself as her agent.
Luke and Clyde are surrounded by Bane. Clyde picks up a hose and soaks the Bane, trying to force them back. Mrs Wormwood arrives and uses her sonic disruptor to blow up the Bane, leaving goo on Luke and Clyde. Sarah Jane arrives with Rani and the Brigadier. To prevent UNIT finding them, Sarah Jane, Luke, Clyde, Rani, the Brigadier and Mrs Wormwood all hide in Gita's flower shop. Mrs Wormwood asks Sarah Jane for the Scroll but she refuses. Commander Kaagh arrives and grabs Sarah Jane's sonic lipstick and destroys it. He demands the Scroll and threatens the youngsters. Sarah Jane gives the scroll to Mrs Wormwood. She forces Luke to go with her and Commander Kaagh.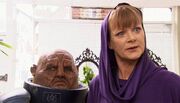 Mrs Wormwood, Kaagh and Luke arrive at a factory where Kaagh has hidden his space pod. He places the Consciousness of Horath in a scroll. Mrs Wormwood says that Luke could be a ruler of a galaxy as her son. Luke grabs the scroll and runs. Kaagh chases him. Just as Kaagh is about to shoot Luke, Mrs Wormwood, in her Bane mode, jumps in front of Kaagh and transforms back to human. She uses her phonic disruptor again.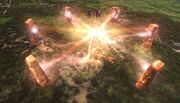 Meanwhile the others go to Sarah Jane's house to speak to Mr Smith, to try to find the whereabouts of Luke, Mrs Wormwood and Kaagh. Major Kilburne tries to stop them, revealing himself as a Bane agent. The Brigadier uses a hidden gun in his cane to stun the Major. They borrow Gita's van and go after their friends.
Mrs Wormwood, Luke and Kaagh arrive at a stone circle to find a force field around it. Only humans can enter. Mrs Wormwood forces Luke to insert the scroll. When he does, the stone circle opens. It's a portal which leads to Horath. Mrs Wormwood uses her sonic device again and Kaagh drops to the floor.
Sarah Jane arrives. Mrs Wormwood tries to convince Luke to go with her, saying she is his mother. Luke says his real mum is Sarah Jane. Mrs Wormwood is upset, but convinces herself that the best way to heal her broken heart is to kill Sarah Jane's gang. However, as she prepares to do so, Kaagh shouts, "Sontar-ha!" and pushes her into the portal. It explodes, trapping them in another dimension, leaving Luke feeling a bit sorry for Mrs Wormwood. Sarah Jane reveals she has another sonic lipstick and destroys the scroll. She then reflects on how amazing the universe can be, as well as her own corner of it, as she bids goodbye to the Brigadier. She asserts that aliens will always visit Earth as it's a wonderful place to be.
General production staff


Script department

Camera and lighting department

Art department


Costume department

Make-up and prosthetics

Movement

General post-production staff

Special and visual effects

Sound
Not every person who worked on this adventure was credited. The absence of a credit for a position doesn't necessarily mean the job wasn't required. The information above is based solely on observations of the actual end credits of the episodes as broadcast, and does not relay information from IMDB or other sources.
References
Edit
When Rani asks how long the government have been aware of aliens, Sarah Jane says even Queen Victoria knew of them, referencing the creation of the Torchwood Institute. Rani replies "Bet she wasn't amused", Rose Tyler made a bet with the Doctor that she could make Queen Victoria say "We are not amused" and won. (TV: Tooth and Claw)
The Brigadier mentions his mission to Peru (previously mentioned in TV: The Poison Sky).
The Brigadier says that "the cat's out of the bag" about aliens now, probably referencing the Dalek Invasion of Earth (2009).
Mrs Wormwood mentions Maria Jackson, saying Rani was taller than her predecessor.
Kaagh discovered Mrs Wormwood on a planet in the Snaketongue Nebula.
Mrs Wormwood uses a cheque from the Mercian Bank.
Cal Kilburne mentions that the Brigadier's wife "let him in", obliquely referencing Doris.
Story notes
Edit
To be added
The appearance of an elderly Brigadier contradicts the continuity of the Virgin New Adventures novels, which establishes that his youth is restored in the early 21st century. The event in question, depicted in PROSE: Happy Endings, takes place in 2010. As this episode takes place in 2009, and there will be no more performances by Nicholas Courtney in the role, this still leaves the door open for such an event to occur to the Brig in his future, barring an on-screen acknowledgement of the character's death contemporaneously with Courtney's.
Filming locations
Edit
to be added
Production errors
Edit
Just before the opening titles in episode 1, Mrs Wormwood lets out a brief laugh. Clearly, she was going to do an "evil Laugh" into the credits and they decided to cut it out, but didn't cut away in time.
In her Bane form, Mrs Wormwood's skin seems to have changed colour.
When the Bane explode over Luke and Clyde, although there are two, one on each side, the slime only comes from one direction, the Bane on Clyde's side.
When Sarah Jane destroys the Scroll, the sound of sparks is still audible for a few seconds after the camera cuts to show the scroll has disappeared.
When Rani tells Sarah Jane that Gita is missing, she is smiling. It doesn't make sense that a child should be smiling one minute then crying the next about their parent's disappearance.
When Sarah Jane's car goes past a sign for the place where Horath is buried, it shows the English Heritage symbol but Rani says that "The National Trust will not be happy". This can be explained away by the fact that many teenagers of Rani's age could not differentiate the two. More of an in-universe mistake by Rani than a production error.
Continuity
Edit
Mrs Wormwood returns along with the Bane. They last appeared in TV: Invasion of the Bane.
Commander Kaagh returns. (TV: The Last Sontaran)
Sir Alistair is a Special Envoy for UNIT. He often serves on diplomatic missions, such as his recent trip to Peru. (TV: The Poison Sky) He doesn't trust UNIT as it stands today ("Homeworld security", poor human rights seen in TV: Fragments etc.), but still maintains a Level One (highest) security clearance.
When arguing against UNIT dealing with a more hostile universe these days, Sir Alistair refers to several enemies UNIT fought in his day, concluding "it doesn't get more hostile than that". The enemies he mentions are Daleks (TV: Day of the Daleks), Cybermen (TV: The Invasion), Autons (TV: Spearhead from Space, Terror of the Autons) and Zygons (TV: Terror of the Zygons).
Major Kilburne mentions that Sir Alistair's wife let him in. Her name is not mentioned, but as Doris drowns in 2010 and this episode is set in 2009, it is likely to be her.
The concept of Horath's body and consciousness being separated is similar to what was done to Nephthys in PROSE: The Sands of Time.
The Brigadier last appeared with Sarah Jane in Doctor Who in The Five Doctors.
The events of TV: Invasion of the Bane, The Last Sontaran and TV: The Sontaran Stratagem / The Poison Sky are mentioned.
Home video releases
Edit
This story, along with the rest of Series 2, was released on DVD on 9th November 2009 (UK) and 10th November 2009 (North America).
External links
Edit
Footnotes
Edit