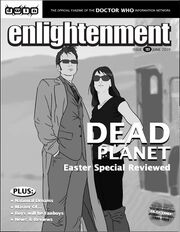 Enlightenment is a fanzine published by the Canadian-based Doctor Who Information Network.
First published in 1984, the magazine released its one hundred fiftieth issue in mid-2009 and celebrated its twenty-fifth anniversary the same year. It is one of the longest-running Doctor Who-related magazines, surpassed possibly only by Doctor Who Magazine itself.
Each issue contains articles of general interest related to the series, reviews and critiques of recent episodes, audios and novels and opinion pieces. All three current series are featured. As of 2009, the magazine was published in a glossy, black and white format. It is available primarily via membership in DWIN. However individual copies can also be purchased from DWIN's website.
The publication takes its title from the Fifth Doctor-era TV story of the same name.
External links
Edit