Ad blocker interference detected!
Wikia is a free-to-use site that makes money from advertising. We have a modified experience for viewers using ad blockers

Wikia is not accessible if you've made further modifications. Remove the custom ad blocker rule(s) and the page will load as expected.

An exile was an individual who lived away from their native land. This could be because they chose to, or they were sent away and denied permission to return.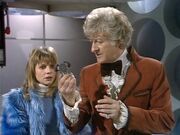 As punishment for his violation of their non-interference policy, the Time Lords forced the Second Doctor to regenerate, then exiled his third incarnation on Earth during the 20th century. (TV: The War Games, Spearhead from Space) After helping stop Omega from leaving the anti-matter universe, the Time Lords rescinded the Doctor's exile as a reward. (TV: The Three Doctors)
After the newly-regenerated Sixth Doctor nearly killed Peri and then regained his senses, he decided to exile himself on Titan III as punishment until he had attained appropriate humility and control. (TV: The Twin Dilemma)
The Rani was exiled from Gallifrey after some of her lab mice, as a result of an experiment, grew to enormous size and ate the Lord President's pet cat. They also bit the President himself, triggering a regeneration. (TV: The Mark of the Rani)
Rassilon exiled the Divergence to another universe. The Eighth Doctor later exiled himself to the same universe to control his Zagreus personality. (AUDIO: Zagreus, The Next Life)