Faith Stealer (audio story)
Talk

0
32,719
articles in progress

Faith Stealer was the sixty-first monthly Doctor Who audio story produced by Big Finish Productions. It was the first story of the second tetralogy of Eighth Doctor stories set in the Divergent Universe. It featured Paul McGann as the Eighth Doctor, India Fisher as Charlotte Pollard and Conrad Westmaas as C'rizz. This story is Graham Duff's only contribution to Doctor Who fiction as a writer.
Publisher's summary
Edit
When the Doctor, Charley and C'rizz find their journey through the Interzone interrupted by a nightmarish vision, they are surprised to find the Kro'ka offering the perfect solution...
The Multihaven -- a vast array of religions and faiths housed in one harmonious community -- appears to offer the perfect sanctuary in which to convalesce. But under the guidance of the charismatic Laan Carder, one religion seems to be gathering disciples at an alarming rate...
With the Doctor and Charley catching glimpses of an old friend and C'rizz on the receiving end of some unorthodox religious practices, their belief, hope and faith are about to be tested to the limit.
It's time to see the light.
to be added
Uncredited cast
Edit
References
Edit
The Doctor
Edit
The Doctor's worst nightmare is the TARDIS being shattered into a million shards.
Individuals
Edit
C'rizz cannot sing.
The Doctor and Charley discuss how they actually know very little of C'rizz, which they attribute to the fact that he seldom talks about himself.
C'rizz still does not understand the concept of time.
Religion
Edit
C'rizz identifies himself as a member of the Church of the Foundation. He had never previously mentioned the name of his faith to either the Doctor or Charley.
The Doctor claims that that he and Charley belong to the Tourist Faith, that they worship C'rizz and begin each day with a ritual cup of tea. Charley later says, "C'rizz be praised!"
The 47 religions in the Multihaven include the the 23rd Church of Lucidity (led by Laan Carder), the Church of Kabari (led by Bishop Parrash), the Bakoans, the Microbaptists, the Divine Gas, the Temple of the Other Open Door and the Church of Serendipity, which worships the Great Lord Whoops the Great Neglecter and embrace accidents and chaos of all kinds. Charley compares the Multihaven to a "spiritual stock exchange."
The Kabarians worship Kabari, a versatile material which can be used as a foodstuff, a hat, a wallpaper and many other things. They formerly worshiped water.
The Multihaven has a population of approximately 6,000 people.
There is a redemption vending machine in the Multihaven.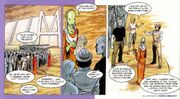 Continuity
Edit
External links
Edit
Big Finish monthly releases
All stories of the main monthly range are included in this navigation box including the "subscriber only" stories which are part of Big Finish Productions' subscription for this range. All other stories are represented in other navigation boxes.