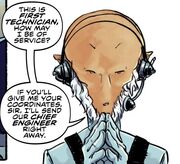 The First Technician was a Sensorite who worked for the Psychic Paper Inc in its claims department. He left the Sense Sphere for unknown reasons. He worked alongside Panoptia, but was not fond of her, despite her being very fond of him. On one occasion, he took a caller from Panoptia when the customer angered her. He sent a message to the Tenth Doctor to resolve the customer complaint. Afterwards, Panoptia gave him a hue, complementing his people skills, to which he replied "don't touch me." (COMIC: Psychic Paper Inc Claims Department)
Ad blocker interference detected!
Wikia is a free-to-use site that makes money from advertising. We have a modified experience for viewers using ad blockers

Wikia is not accessible if you've made further modifications. Remove the custom ad blocker rule(s) and the page will load as expected.