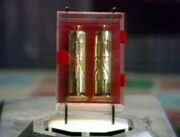 A fission grenade was an highly-explosive device. The Oracle created two fission grenades that were impossible to defuse, each with explosives in excess of two-thousand mega-tonnes. When Jackson came to take the Minyan race bank, the Oracle gave him the grenades instead. They looked like two gold cylinders, as did the race bank. The Fourth Doctor took the real race bank and when the guards went out to recapture it, they returned the grenades instead. They detonated destroying the P7E and the planet that had formed around it. (TV: Underworld)
Ad blocker interference detected!
Wikia is a free-to-use site that makes money from advertising. We have a modified experience for viewers using ad blockers

Wikia is not accessible if you've made further modifications. Remove the custom ad blocker rule(s) and the page will load as expected.