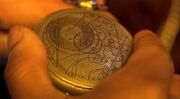 A
fob watch
or a
pocket watch
was a
watch
carried in the pocket, as opposed to being worn on the wrist.
The Doctor's fob watches
Edit
The fob watch carried by the Seventh Doctor was the one used by the First Doctor. (PROSE: All-Consuming Fire)
The Second Doctor used a fob watch to hypnotise Vana after she exited the Kroton spaceship (TV: The Krotons)
Once, the Fourth Doctor used his fob watch for hypnotic suggestion. (TV: The Ribos Operation)
Zoe Heriot asked the Sixth Doctor for his fob watch so she could hypnotise herself to keep a Cyber-Planner out of her head. (AUDIO: Last of the Cybermen)
The Eighth Doctor wore an outfit consisting of a deep green velvet trench coat and a bronze-grey waistcoat with a fob watch. (COMIC: The Pictures of Josephine Day)
The Eleventh Doctor began to regularly wear a watch chain after going into retirement and continued wearing it after his return, when he changed his clothing style. (TV: The Bells of Saint John) It was generally a gold fob watch fastened to his waistcoats. (TV: The Day of the Doctor, The Time of the Doctor) The Eleventh Doctor used a fob watch to lure Lepus Warriors through a warp gate. (COMIC: The Hat Trick)
Chameleon Arch
Edit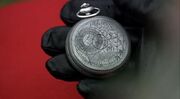 A crucial part of the Chameleon Arch looked like a fob watch. Chameleon Arch fob watches once held the Time Lord essences of both the Tenth Doctor and the Master. Such watches were recognisable, as Martha Jones learned, by distinctive Gallifreyan messages on the obverse. (TV: Human Nature, The Family of Blood, Utopia)
On meeting Jackson Lake and seeing his fob watch, the Tenth Doctor thought that Jackson might be an incarnation of himself. When the Doctor turned the watch over, however, it didn't bear any Gallifreyan script and was revealed as an ordinary fob watch. (TV: The Next Doctor)
Behind the scenes
Edit
Character Options made replica Tenth Doctor fob watches available in their 2007 toy range.
A metal version of the Master's Fob watch was released by Wesco and later it was re-released as 50th Anniversary Collectors FOB Watch for the 50th anniversary, with a new clock face.
A more accurate Prop version of Metal Fob watch was released under the title "Chameleon Arch Pocket Watch" by The Celestial Toystore.
Ad blocker interference detected!
Wikia is a free-to-use site that makes money from advertising. We have a modified experience for viewers using ad blockers

Wikia is not accessible if you've made further modifications. Remove the custom ad blocker rule(s) and the page will load as expected.