Forty-Five was a Big Finish Productions anthological audio release in which the number "45" somehow figured into each of the four stories. It featured the Seventh Doctor, Ace and Hex, and was intended to celebrate the forty-fifth anniversary of Doctor Who.
The stories included were: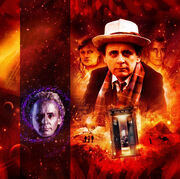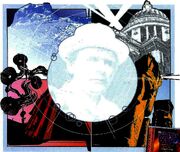 This is the second story to celebrate Doctor Who's 45th anniversary, the other being the comic story The Forgotten.
On the CD cover art and inside the booklet, the TARDIS interior shown is the one from the TV Movie, reflecting the sound effect which had been used since The Settling. Whilst this seemingly contradicted Excelis Decays, in which the Seventh Doctor was depicted as reconfiguring the TARDIS into its TV Movie form, it was later revealed in Black and White that the Doctor restored the TARDIS console room's original configuration at some point between A Death in the Family and that story in order to differentiate it from that of the black TARDIS.
This is Big Finish's third anthology release, an annual trend which began with Circular Time. Anthologies have covered themes such as companions and seasons, but more recently stories have only been linked by Doctor and companion.
The number "45" is of thematic significance in each play:
External links
Edit
Ad blocker interference detected!
Wikia is a free-to-use site that makes money from advertising. We have a modified experience for viewers using ad blockers

Wikia is not accessible if you've made further modifications. Remove the custom ad blocker rule(s) and the page will load as expected.