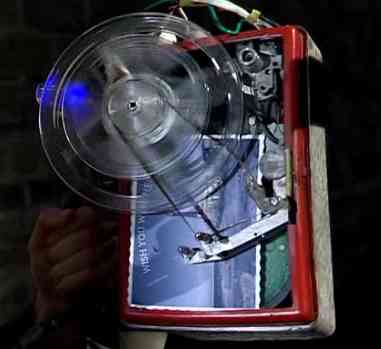 This is the place to come if you want to look at timelines for characters and things. Its creation was authorised by forum:timeline pages, which all readers should consult if they don't understand why this move has been adopted.
Briefly, however, timelines have been taken out of the normal namespace because they contained an awful lot of conjecture. And they will always be largely suppositional. Thus, they are better placed within the forum namespace, rather than implied a kind of "fact" within the main namespace. Indeed, all timeline pages which used to exist on the wiki have been deleted in an effort to remake them without the use of the Doctor Who Reference Guide, which isn't considered a valid source by this wiki. By "burning down" the existing timeline pages, and explicitly reminding people that the DWRG is not a valid source, we're hoping that each story will be carefully reconsidered on its own merits before being put back into a timeline. Because these pages are definitionally the opinions of editors, you should avoid linking to them from articles in the main namespace.
The page Forum:Timeline - Eighth Doctor is to be seen as a model for the new timeline pages. If you're trying to figure out what we're trying to accomplish, take a look at that page and create your new timeline page in its image. The key features are: explanation of underlying assumptions, citations to valid sources where possible, and frank admission of the spots where arbitrary placement has been made.
As of 1 May 2012, there are no plans to archive any of this material. The threads will simply be left intact here, until it becomes obvious that there is a demonstrated need for an archive.
---
Please make sure that your topic name summarises your topic in a way that will be easily searchable.
Thread list
Edit
This thread list is comprised of two parts: the Timeline threads themselves and general essays/thoughts about time. These latter type of threads must be created under category:Time essays for them to show up correctly.
Please add the Doctor Who timelines template (as seen above) to any new and old timelines.
Begun

Topic

Last edit

Last author

timelines
May 4, 2012
Timeline - Ninth Doctor
14:46, April 21, 2018
BananaClownMan
October 12, 2011
Timeline - Eighth Doctor
20:54, April 20, 2018
BananaClownMan
March 14, 2007
Timeline - Daleks
18:43, April 19, 2018
77.100.252.47
May 5, 2012
Timeline - Tenth Doctor
12:48, April 19, 2018
BananaClownMan
November 27, 2017
Timeline - Bill Potts
18:29, April 18, 2018
MrThermomanPreacher
November 27, 2017
Timeline - Nardole
18:28, April 18, 2018
MrThermomanPreacher
October 22, 2017
Timeline - Winston Churchill
19:12, April 17, 2018
LegoK9
November 2, 2017
Timeline - The Doctor's Age
17:00, April 17, 2018
LegoK9
May 22, 2012
Timeline - Fifth Doctor
15:26, April 17, 2018
BananaClownMan
September 8, 2017
Timeline - The Eleven
10:03, April 13, 2018
77.100.252.47
May 6, 2012
Timeline - Eleventh Doctor
09:28, April 13, 2018
77.100.252.47
May 22, 2012
Timeline - Sixth Doctor
22:16, April 12, 2018
23.233.212.97
May 17, 2012
Timeline - Third Doctor
01:33, April 12, 2018
Nahald
May 7, 2012
Timeline - River Song
18:46, April 9, 2018
ToyStoryFan123
January 1, 2014
Timeline - Twelfth Doctor
00:19, April 8, 2018
BananaClownMan
December 25, 2017
Timeline - Thirteenth Doctor
23:24, April 7, 2018
BananaClownMan
May 22, 2012
Timeline - Fourth Doctor
23:23, April 7, 2018
BananaClownMan
May 9, 2012
Timeline - Second Doctor
23:20, April 7, 2018
BananaClownMan
May 6, 2012
Timeline - First Doctor
23:17, April 7, 2018
BananaClownMan
February 16, 2018
Timeline - The War
21:24, April 4, 2018
NateBumber
April 3, 2018
Timeline - Liv Chenka
15:56, April 3, 2018
SarahJaneFan
September 8, 2017
Timeline - Ollistra
22:42, March 31, 2018
SarahJaneFan
March 31, 2018
Timeline - Lucie Miller
16:46, March 31, 2018
SarahJaneFan
November 20, 2015
Timeline - The Monk
16:39, March 31, 2018
SarahJaneFan
May 10, 2012
Timeline - Torchwood
21:48, March 30, 2018
LegoK9
November 26, 2017
Timeline - Ben & Polly
21:12, March 20, 2018
SarahJaneFan
May 13, 2012
Timeline - The Master
19:22, March 17, 2018
BananaClownMan
November 26, 2017
Timeline - Ace
17:41, March 14, 2018
SarahJaneFan
December 20, 2016
Timeline - Rassilon
23:11, March 3, 2018
LegoK9
March 1, 2014
Timeline - Last Great Time War
12:38, February 27, 2018
Дмитрий Куклин
November 26, 2017
Timeline - Clara Oswald
21:15, February 24, 2018
BananaClownMan
March 16, 2016
Timeline - Jack Harkness
18:48, February 21, 2018
ToyStoryFan123
November 24, 2015
Timeline - Time Lords
03:23, February 17, 2018
NateBumber
October 6, 2017
Timeline - Rose Tyler
02:51, February 17, 2018
ToyStoryFan123
June 22, 2016
Timeline - Paternoster Gang
14:37, February 15, 2018
MrThermomanPreacher
December 25, 2013
Timeline - War Doctor
13:20, February 13, 2018
BananaClownMan
November 26, 2017
Timeline - Donna Noble
03:09, February 5, 2018
Doug86
November 26, 2017
Timeline - Leela
04:45, February 4, 2018
174.95.5.177
May 11, 2012
Timeline - Sarah Jane Smith
11:38, January 27, 2018
ToyStoryFan123
November 26, 2017
Timeline - Nyssa
03:43, January 25, 2018
104.249.228.66
January 22, 2018
Timeline - Christina de Souza
02:02, January 25, 2018
LegoK9
January 22, 2018
Timeline - The Forge
22:52, January 22, 2018
MrThermomanPreacher
May 22, 2012
Timeline - Seventh Doctor
22:35, January 22, 2018
Nahald
December 29, 2012
Timeline - Bernice Summerfield
00:22, January 14, 2018
Amorkuz
October 29, 2017
Timeline - Jackie Tyler
18:23, January 10, 2018
MrThermomanPreacher
January 9, 2018
Timeline - Alpha Centauri
22:52, January 9, 2018
MrThermomanPreacher
October 29, 2017
Timeline - UNIT
05:27, January 5, 2018
Nahald
January 4, 2018
Timeline - Abslom Daak
22:19, January 4, 2018
LegoK9
November 26, 2017
Timeline - Jenny
21:18, January 4, 2018
LegoK9
December 13, 2014
Timeline - Celestial Toymaker
20:44, December 29, 2017
LegoK9
October 28, 2013
Timeline - Wilfred Mott
20:40, December 29, 2017
LegoK9
November 27, 2017
Timeline - Sara Kingdom
14:56, December 29, 2017
ThetaSigma23
November 26, 2017
Timeline - Victoria Waterfield
12:04, December 29, 2017
ThetaSigma23
November 26, 2017
Timeline - Liz Shaw
11:53, December 29, 2017
ThetaSigma23
November 26, 2017
Timeline - Zoe Heriot
11:05, December 28, 2017
ThetaSigma23
November 26, 2017
Timeline - Adric
10:48, December 28, 2017
ThetaSigma23
November 27, 2017
Timeline - Harry Sullivan
09:21, December 28, 2017
ThetaSigma23
November 26, 2017
Timeline - Vislor Turlough
08:54, December 28, 2017
ThetaSigma23
November 26, 2017
Timeline - Steven Taylor
18:36, December 27, 2017
ThetaSigma23
November 26, 2017
Timeline - Ian & Barbara
18:02, December 27, 2017
ThetaSigma23
October 28, 2013
Timeline - Mickey Smith
13:39, December 25, 2017
MrThermomanPreacher
November 26, 2017
Timeline - Peri Brown
13:32, December 25, 2017
MrThermomanPreacher
April 17, 2015
Timeline - Frobisher
23:45, December 22, 2017
LegoK9
November 26, 2017
Timeline - Tegan Jovanka
02:42, November 28, 2017
Steed
November 27, 2017
Timeline - Narvin
21:05, November 27, 2017
MrThermomanPreacher
November 27, 2017
Timeline - K9 Mark III
20:47, November 27, 2017
MrThermomanPreacher
November 27, 2017
Timeline - K9 Mark II
20:38, November 27, 2017
MrThermomanPreacher
November 27, 2017
Timeline - K9 Mark I
20:35, November 27, 2017
MrThermomanPreacher
November 27, 2017
Timeline - Amy Pond
17:05, November 27, 2017
MrThermomanPreacher
November 27, 2017
Timeline - Rory Williams
17:03, November 27, 2017
MrThermomanPreacher
November 26, 2017
Timeline - Charley Pollard
22:07, November 26, 2017
MrThermomanPreacher
November 26, 2017
Timeline - Melanie Bush
21:10, November 26, 2017
MrThermomanPreacher
November 26, 2017
Timeline - Jo Grant
19:09, November 26, 2017
MrThermomanPreacher
November 26, 2017
Timeline - Jamie McCrimmon
18:51, November 26, 2017
MrThermomanPreacher
November 26, 2017
Timeline - Dodo Chaplet
17:28, November 26, 2017
MrThermomanPreacher
November 26, 2017
Timeline - Vicki Pallister
17:12, November 26, 2017
MrThermomanPreacher
November 26, 2017
Timeline - Susan Foreman
16:52, November 26, 2017
MrThermomanPreacher
November 26, 2017
Timeline - Martha Jones
16:20, November 26, 2017
MrThermomanPreacher
April 5, 2014
Timeline - Jago & Litefoot
03:10, November 15, 2017
LegoK9
November 2, 2015
Timeline - 21st century Earth
21:55, November 13, 2017
Amorkuz
July 18, 2016
Timeline - The Valeyard
01:20, November 13, 2017
LegoK9
April 13, 2016
Timeline - Iris Wildthyme
20:38, October 26, 2017
LegoK9
September 8, 2017
Timeline - Straxus
22:23, October 21, 2017
LegoK9
April 1, 2013
Timeline - Cybermen (Mondas)
22:23, October 21, 2017
LegoK9
August 30, 2015
Timeline - The Brigadier
19:42, September 25, 2017
KastonIago
September 12, 2017
Timeline - Earth Reptiles
22:29, September 17, 2017
MrThermomanPreacher
September 12, 2017
Timeline - Ice Warriors
20:49, September 12, 2017
MrThermomanPreacher
September 8, 2017
Timeline - Omega
05:16, September 9, 2017
Pluto2
September 8, 2017
Timeline - Borusa
19:46, September 8, 2017
MrThermomanPreacher
June 25, 2017
How the new Mondas Cybermen were made.
10:52, June 25, 2017
91.216.112.19
April 20, 2017
Timeline - Intrusion Counter-Measures Group
16:47, June 21, 2017
BananaClownMan
February 24, 2015
Timeline - Davros
14:59, June 15, 2017
Conscious Obsession
June 14, 2017
Genesis of Evil: Why it reconciles with the TV Series
14:17, June 15, 2017
Conscious Obsession
June 26, 2014
Timeline - The Great Intelligence
17:40, June 11, 2017
Conscious Obsession
December 16, 2016
Timeline - The Other
21:30, May 17, 2017
NateBumber
January 15, 2014
Timeline - Dr. Who (Dr. Who and the Daleks)
19:10, May 4, 2017
OttselSpy25
July 20, 2016
Timeline - Romana
02:19, February 17, 2017
Doug86
December 5, 2015
Timeline - The Rani
23:26, January 11, 2017
Pluto2
December 22, 2016
Timeline - Merlin
04:24, December 23, 2016
Pluto2
January 7, 2016
First Doctor, Second Doctor, and companions listening order
02:45, December 7, 2016
Fwhiffahder
November 9, 2016
Timeline - Irving Braxiatel
09:01, November 24, 2016
SV7
July 28, 2016
Timeline - Dalek Time Controller/The Eminence
21:18, August 10, 2016
Fwhiffahder
August 5, 2016
Timeline - Viyrans
13:09, August 8, 2016
Fwhiffahder
May 4, 2013
Essay - The number 42
03:23, May 27, 2016
Shambala108
November 2, 2015
Timeline - Spin-Off Shows Timeline Order Suggestion
16:41, December 28, 2015
TheChampionOfTime
April 5, 2014
Timeline - Henry Gordon Jago
01:59, June 12, 2015
76.73.209.17
Musings about time