Frazer Hines
Talk

0
32,646
articles in progress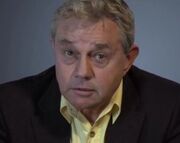 Frazer Hines (born on 22 September 1944 in Horsforth Yorkshire) played companion Jamie McCrimmon in Doctor Who, from The Highlanders to The War Games, and again in the twentieth anniversary special, The Five Doctors, and the Season 22 story, The Two Doctors. Outside Doctor Who, he is perhaps best known for playing Joe Sugden in Emmerdale Farm.
At the age of eight, after studying acting at the Corona Academy, he made his acting debut. He was thirteen when he appeared in Charlie Chaplin's A King in New York (1957). By the age of fifteen, he had appeared in six films. In 1960 he appeared in the eight-part serial The Young Jacobites. His television roles included Jan in The Silver Sword (1957-8), Tim Birch in Emergency Ward 10 (1963-4) and Roger Wain in Coronation Street (1965).
In Doctor Who he played the part of Jamie McCrimmon, a companion of the Second Doctor, from 1966 to 1969, and reappeared in The Five Doctors (1983) and The Two Doctors (1985). The original script treament for The Three Doctors had called for him to return as Jamie in that story as well, but scheduling conflicts with his work on Emmerdale Farm, as well as objections by Jon Pertwee to what he perceived as too many characters in the story, prevented this.
After his three-year stint as Jamie in Doctor Who Hines resumed the life of a jobbing actor until 1972, when he was cast in the soap opera Emmerdale Farm as Joe Sugden — a role he played until 1994. Between making episodes of Emmerdale, as it was renamed in the 1980s, he has continued a career in the theatre and made occasional appearances on other TV shows.
In 1981, Frazer married Irish actress Gemma Craven, but the marriage dissolved in 1984. He married again in 1994 to Liz Hobbs. They divorced in 2003.
He is also a noted amateur jockey.
Recently, Hines has returned to the Doctor Who franchise through the Big Finish Productions audio line, performing Jamie for the Companion Chronicles series. Beginning in 2010, he reprised the role for a series of audio dramas pairing the Highlander with the Sixth Doctor (Colin Baker).
Hines has published two autobiographies: Films, Farms and Fillies (1996) and Hines Sight (2009).
In July 2010, Hines revealed that he had been battling bowel cancer for eleven years, but had chosen not to publicise the fact (even going so far as omitting it from his 2009 autobiography) until given the medical all-clear.
In March 2013, Frazer appeared on a Doctor Who addition of the TV game show "Pointless Celebrities" and partnered up with Louise Jameson.
External links
Edit