Gallifrey (audio series)
Talk

0
39,518
articles in progress
Gallifrey was a six-series-long range, released by Big Finish Productions, all centring on Gallifrey and its affairs, both internal and external.
The main focus of the story was split between Lady President Romana, as portrayed by Lalla Ward, and Leela, as portrayed by Louise Jameson. It also featured the return of Mary Tamm as the Romana's first incarnation.
Publisher's summary
Former travelling companions, Romana and Leela, are now living on the Time Lord home world of Gallifrey where life is far from dull. An on-going series of adventures on single CD.
Gallifrey
Series one
Series two
Series three
Series four
Series 4, titled Gallifrey IV on the box set, was something of a departure from the previous series. While the series does have an linking arc, there is far less connection between the four stories than previous series. Series 4 was described by Gary Russell on the Making of CD as a sort of "Gallifrey Unbound", with each of the four stories presenting an alternative timeline of Gallifrey's history.
Series five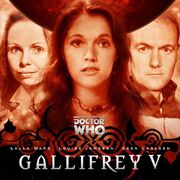 Series six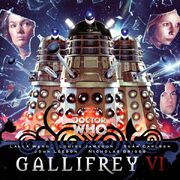 The final series of Gallifrey, consisting of 3 stories, was released in October 2013.
Cast
Notes
As with most of the Big Finish series, the main cast does not change between stories but there are many guest characters and cast.
Romana, Leela and Narvin are the only characters to appear in all twenty-four audio dramas in the series.
Romana, Leela, K9 Mark I, K9 Mark II, Darkel, Andred, Commander Maxil and Valyes are the only characters from the classic series to appear in Gallifrey, though two distinct, alternative versions of the Sixth Doctor - namely, the Burner Doctor and Commentator Theta Sigma - appear in the fourth series.
In a documentary included with the final series, Gallifrey VI, the producers indicate that the series was inspired by the American political drama The West Wing.
External links