Gallifrey is an ongoing series produced by Big Finish Productions centring on Gallifrey and its affairs, both internal and external. Eight series have been released to date.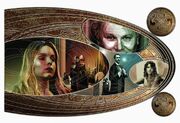 The main focus of the story is split between Lady President Romana, as portrayed by Lalla Ward, and Leela, as portrayed by Louise Jameson. It also featured the return of Mary Tamm as Romana's first incarnation and the introduction of a new incarnation.
The first three series took the form of single releases. Beginning with the fourth series, Gallifrey moved to a boxset format. Series seven and eight saw another format change, each consisting of a single, longer story.
Publisher's summary
Edit
Tales of intrigue and political manoeuvring from the seat of Time Lord power. Join Romana, Leela and K9 as they find enemies on all sides in a delicate game with the fate of Gallifrey hanging in the balance.
Gallifrey Edit
Series one
Edit
Series two
Edit
Series three
Edit
Gallifrey IV
Edit
Gallifrey V
Edit
Gallifrey VI
Edit
Series seven
Edit
Series eight
Edit
Cover gallery
Edit
As with most of the Big Finish series, the main cast does not change between stories but there are many guest characters and cast.
Romana and Narvin are the only characters to appear in all twenty-six audio dramas in the series. As Romana does not appear in her second incarnation in the seventh series, Seán Carlsen is the only actor to star in all twenty-six episodes.
Gallifrey crossed over with some of Big Finish's other Doctor Who spin-offs in The Worlds of Doctor Who. Gallifrey featured in Second Sight.
The characters from the classic series that reappear in Gallifrey are Romana, Leela, K9 Mark I, K9 Mark II, Darkel, Andred, Commander Maxil, Ace and Omega. In addition, two distinct, alternative versions of the Sixth Doctor — namely, the Burner Doctor and Commentator Theta Sigma — appear in the fourth series.
In a documentary included with the sixth series, Gallifrey VI, the producers indicated that the series was inspired by the American political drama The West Wing.
External links
Edit
Ad blocker interference detected!
Wikia is a free-to-use site that makes money from advertising. We have a modified experience for viewers using ad blockers

Wikia is not accessible if you've made further modifications. Remove the custom ad blocker rule(s) and the page will load as expected.