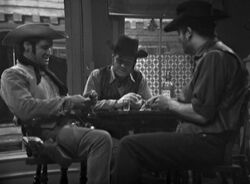 Gambling was the act of wagering against odds in order to profit. This often took the form of games.
In the Imperial Palace in Peking, the First Doctor wagered on a game of backgammon with Kublai Khan. After winning half of Asia, he wagered it all for the TARDIS and lost. (TV: "Assassin at Peking")
In Chicago, the First Doctor gambled away the TARDIS again, this time in a game of cards with a businessman named Buchanan. He did, however, win a purple Oldsmobile 88 in another game. (PROSE: The Mother Road)
In the Last Chance Saloon, Seth Harper, Ike Clanton and Phineas Clanton wagered on a game of cards while waiting for the appearance of Doc Holliday. (TV: The Gunfighters)
In Venice, Duke Orsino gambled away Estella in a game of cards. (AUDIO: The Stones of Venice)
Ad blocker interference detected!
Wikia is a free-to-use site that makes money from advertising. We have a modified experience for viewers using ad blockers

Wikia is not accessible if you've made further modifications. Remove the custom ad blocker rule(s) and the page will load as expected.