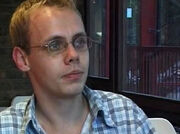 Gary Gillatt was an editor for Doctor Who Magazine. He has also produced covers for Big Finish's Doctor Who main range.
He wrote Doctor Who: From A to Z.
He returned to DWM in 2008 to review the classic series DVDs each issue. His Doctor Who writing is known for its wry wit and strongly expressed views.
Ad blocker interference detected!
Wikia is a free-to-use site that makes money from advertising. We have a modified experience for viewers using ad blockers

Wikia is not accessible if you've made further modifications. Remove the custom ad blocker rule(s) and the page will load as expected.