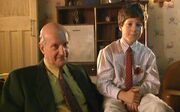 Gerry Anderson was a TV producer interviewed in the documentary More than 30 Years in the TARDIS. He also appeared alongside his son, Jamie Anderson, who went on to write and direct a number of audio stories for Big Finish.
Anderson also established AP Films (later rebranded as Century 21 Productions) which produced many of his TV series, several of which he created together with his second wife, Sylvia Anderson. The Second Doctor novel The Indestructable Man features elements that have been heavily borrowed from Anderson's series, including Thunderbirds, Captain Scarlet, and UFO.
Ad blocker interference detected!
Wikia is a free-to-use site that makes money from advertising. We have a modified experience for viewers using ad blockers

Wikia is not accessible if you've made further modifications. Remove the custom ad blocker rule(s) and the page will load as expected.