Ad blocker interference detected!
Wikia is a free-to-use site that makes money from advertising. We have a modified experience for viewers using ad blockers

Wikia is not accessible if you've made further modifications. Remove the custom ad blocker rule(s) and the page will load as expected.
Ghostwatch was a TV show presented by Alistair Appleton which was devoted to the ghosts that had begun to appear all over the world. Appleton was killed live on screen when the ghosts fully materialised as Cybermen and invaded the studio. (TV: Army of Ghosts)
Roberta Wang was the producer of the show and Tony Salt was the director.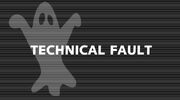 When Tony Salt got sick Suzy Monroe took over his job. She filmed several ghosts at the Powell Estate in London, which was broadcast life on Ghostwach. Then Suzy left to have a look at some viewers' sightings. There she was attacked by a Cyberman who told her that she was not compatible and that she would be deleted. Suzy screamed. Then the broadcast of the show stopped. A sign "technical fault" appeared. (WC: Ghostwatch)
SMS to Ghostwatch
Edit
During the broadcast of Ghostwatch SMS could be sent to the show. They needed to be texted to G40S7. While Suzy Monroe was filming the following SMS were sent. A lot of them were very short and included typos: