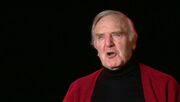 Glyn Houston appeared in two Doctor Who stories: as Professor Watson in The Hand of Fear and Colonel Ben Wolsey in The Awakening. Outside the DWU, Houston was the initial actor to play Mervyn Bunter in the BBC television dramatisations of Dorothy L. Sayers' Lord Peter Wimsey mysteries. He was also the first actor to portray Ellis Peters' medieval-detective Brother Cadfael on BBC Radio 4 in 1979. The character has also been played by Derek Jacobi and Philip Madoc.
External links
Edit
Ad blocker interference detected!
Wikia is a free-to-use site that makes money from advertising. We have a modified experience for viewers using ad blockers

Wikia is not accessible if you've made further modifications. Remove the custom ad blocker rule(s) and the page will load as expected.