Ad blocker interference detected!
Wikia is a free-to-use site that makes money from advertising. We have a modified experience for viewers using ad blockers

Wikia is not accessible if you've made further modifications. Remove the custom ad blocker rule(s) and the page will load as expected.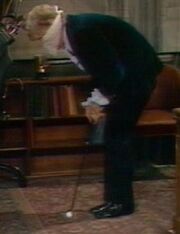 Golf was a human sport played with golf balls and golf clubs. The Third Doctor claimed to be an accomplished golfer. Captain John Hart and George Trenchard were also golfers. (TV: The Sea Devils)
According to a National Portrait Gallery poster in a Coal Hill Academy history classroom, Mary II was a talented golfer. (TV: The Coach with the Dragon Tattoo)
Trenchard distracted the Doctor and Hart by talking about a golf tournament while the Master stole some parts from the sonar stores within HMS Seaspite.
The Third Doctor putted with a club in Trenchard's office. (TV: The Sea Devils)
The Eighth Doctor once likened the decapitating of a vampire to golf. (PROSE: The Eight Doctors)
A Dogon sixth eye fell out of the sky while Mr Garret was playing golf. He initially confused it for a golf ball. (TV: Random Shoes)
Brian Williams enjoyed playing golf. He even kept golf balls in his pockets. (TV: Dinosaurs on a Spaceship)
Apparently, Clara's Oswald's dad was very boring when he was talking about golf. (TV: Last Christmas)