Ad blocker interference detected!
Wikia is a free-to-use site that makes money from advertising. We have a modified experience for viewers using ad blockers

Wikia is not accessible if you've made further modifications. Remove the custom ad blocker rule(s) and the page will load as expected.

Google was a popular Internet search engine during the 21st century. Gwen Cooper used the site to find information on myths related to Death; Toshiko Sato questioned the reliability of her search results. (TV: Dead Man Walking)
The Eighth Doctor wondered if Mr Tluss had learned his name by searching it on Google. (PROSE: Best Seller)
Raine Creevy used Google in 2001 and found out her father had died. (AUDIO: Animal)
Shirley1968 found Iaml's chat room by searching for it on Google. (PROSE: Lonely)
Bernice Summerfield googled herself in the library on the Prince of Mercury. (PROSE: The Ship of Painted Shadows)
Erimem joked that she used Google to find out she needed to bring food to Stalingrad in 1942. (PROSE: The Beast of Stalingrad)
Before describing the Bootstrap paradox, the Twelfth Doctor requested to "google it". (TV: Before the Flood)
Sarah Jane Smith kept tabs on some of the Doctor's past companions through Google, and found information on Tegan Jovanka, Ben Jackson, Polly Wright, Harry Sullivan, "Dorothy", and Ian and Barbara Chesterton. (TV: Death of the Doctor)
Behind the scenes
Edit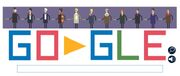 In celebration of the 50th anniversary of Doctor Who, Google released a Doctor Who game as their logo "doodle", codenamed the "Whodle." It was one of the most complex doodles that Google had ever done, with 5 levels where the player worked to retrieve the six letters to the Google logo while avoiding the Doctor's foes. Every incarnation of the Doctor was playable (if the player was killed by a baddie he would regenerate into the next Doctor, with infinite lives), and the Daleks, Cybermen, and Weeping Angels featured as villains.