Ad blocker interference detected!
Wikia is a free-to-use site that makes money from advertising. We have a modified experience for viewers using ad blockers

Wikia is not accessible if you've made further modifications. Remove the custom ad blocker rule(s) and the page will load as expected.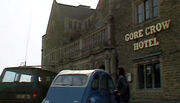 The Gore Crow Hotel was a hotel in Carbury in rural England. The hotel's main building was built in 1684.
In 1997, it was run by Pat Rowlinson and his wife Elizabeth Rowlinson. (PROSE: Battlefield) The hotel had its own microbrewery and served its brews at a small counter in the hotel's main reception area. The hotel's pub counter was frequented by locals, including archaeologist Peter Warmsly and young science student Shou Yuing.
At about this time, its owners and Warmsly were evacuated. It exploded when Morgaine attacked it while looking for Excalibur.
The Gore Crow was located near the site of an 8th century battlefield, from which it may have derived its name: gore crows were crows that flocked to a battlefield to feast on the dead, and were a feature in English ballads. (TV: Battlefield)