Graeme Harper
Talk

0
32,662
articles in progress
Graeme Harper was born on 11 March 1945 in London, and has directed several Doctor Who stories, being the only director of episodes in the classic 1963-1989 series of Doctor Who and the revived series.
Before becoming a director, he was
assistant floor manager
for
Colony in Space
,
Planet of the Daleks
(with
John Cook
and
Sue Hedden
) and
Planet of the Spiders
. He was also
production assistant
for
The Seeds of Doom
and
Warriors' Gate
. His directorial credits include episodes of the spin-off series
The Sarah Jane Adventures
. The first
Doctor Who
story that he directed was
The Caves of Androzani
, although he also performed uncredited directorial work on
Warriors' Gate
.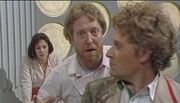 He had an uncredited on-screen appearance in The Brain of Morbius as one of the faces appearing during the mind-bending contest between the Fourth Doctor and Morbius.
He has written about his experiences in directing Doctor Who in his book, Calling the Shots, co-written with Adrian Rigelsford.
The "Harper treatment"
Graeme Harper has a penchant for including a distorted image of a main character in most of the stories he has directed for BBC Wales. It has occurred often enough for it to be considered something of a directorial "signature". Characters are seen through magnifying glasses in Rise of the Cybermen, Army of Ghosts, The Unicorn and the Wasp and Utopia, reflected in a series of mirrors in Turn Left and through a curved window that gives a fish-eye effect in Journey's End.
Selected credits
Director
Doctor Who
The Sarah Jane Adventures
Unproduced stories
External links