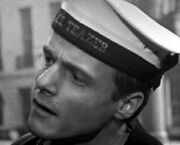 HMS Teazer was the Royal Navy vessel to which Ben Jackson was assigned as a radar plot third class. In July 1966, she had recently departed Britain en route to the West Indies, leaving Ben seconded to a shore posting and most disappointed. (TV: The War Machines; PROSE: The Smugglers)
Behind the scenes
Edit
Neither the ship's name nor Ben's rate (speciality) was referred to in dialogue nor in the novelisation of The War Machines. Both were shown on Ben's uniform. The rate badge of a radar plot third class was worn on his right sleeve, and his ship was identified on his cap embroidery. Details as to the class of ship were never made clear.
The most recent ship to bear the name, HMS Teazer (S23), was a Type 16 anti-submarine frigate, which had been converted from a T-class destroyer (as R23) in 1952. She was scrapped on 7 August 1965, nearly a year before her DWU counterpart set sail for the West Indies without Ben.
Ad blocker interference detected!
Wikia is a free-to-use site that makes money from advertising. We have a modified experience for viewers using ad blockers

Wikia is not accessible if you've made further modifications. Remove the custom ad blocker rule(s) and the page will load as expected.