Henry Gordon Jago
Talk

0
40,040
articles in progress
Henry Gordon Jago was the owner of the Palace Theatre and the New Regency Theatre in London during the late 19th century. He had adventures with the Doctor in his fourth and fifth incarnations and became the short-lived companion of the Sixth Doctor. Following his adventures with the Doctor, he became a "defender of the Earth". investigating alien activity that threatened the future, alongside George Litefoot, with whom he developed a great friendship.
Biography
Edit
Early life
Edit
As a young man, Jago performed at the Glasgow Empire. (AUDIO: The Lonely Clock)
Both of his parents had died by the 1890s. His mother claimed that he "had all the grace of a bull in a china shop." (AUDIO: Jago in Love)
Jago had an aunt named Maude who was still alive in the 1890s. As an elderly woman, she lived in Margate and was engaged to a fishmonger named Robert Botcherby. (AUDIO: The Spirit Trap)
Encountering the Doctor, Litefoot and Leela
Edit
In 1889, Li H'sen Chang performed his magic act at the Palace Theatre. Secretly, Chang worked for Magnus Greel, who was kidnapping and cannibalising women to heal himself. Jago helped the Fourth Doctor and his companion Leela with their investigations of the disappearances, believing them to be police officers. Chang's plan was revealed during a performance and he tried to commit suicide, while Greel escaped.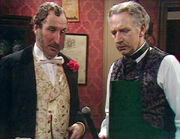 George Litefoot joined forces with Jago to find where Greel escaped to. They followed him to the House of the Dragon, where they were captured by members of the Tong. The Doctor tried to help free them, but he was captured as well. During the final confrontation with Magnus, Jago and Litefoot helped to distract Mr Sin, with Jago taking a glancing blow from a laser. (TV: The Talons of Weng-Chiang)
Jago was forced to sell the Palace Theatre after these events, as a result of the scandal following the Weng-Chiang Incident. (PROSE: The Shadow of Weng-Chiang) At some later time, he began working at the Alhambra Theatre. (AUDIO: The Mahogany Murderers)
The Fourth Doctor once described Jago and Litefoot as being "outstanding and extraordinary." (AUDIO: The Justice of Jalxar)
Investigating infernal incidents
Edit
His association with George Litefoot continued beyond their adventure with the Doctor. The pair were involved as amateur sleuths in several other mysteries. As well as receiving help from Sergeant Percival Quick. (AUDIO: The Mahogany Murderers, Jago and Litefoot)
Jago believed that he and Litefoot were the inspiration for the serialised adventures of Sherlock Holmes and Dr. John Watson by Arthur Conan Doyle featured in The Strand magazine. (AUDIO: Jago in Love)
In 1890, Jago and Litefoot later descended into the London sewers to kill the rest of Greel's remaining giant rats with a Gatling gun and on the way there, failed to recognise the Fifth Doctor, who had regenerated since their first encounter with him. (PROSE: A Victorian Interlude)
Tracking down Tulp
Edit
After the Doctor's departure, he and George Litefoot began many adventures together, finding murderers and so on. Such as an adventure involving mahogany mannequins, animated by the living spirits of criminals in prison, who had been assisted by a man called Dr Tulp. However, the mannequins were defeated, but Tulp escaped. (AUDIO: The Mahogany Murderers)
Jago, along with his friend Litefoot, were confronted by a bloodsucking beast, which had originally been a captain who was scratched by a beast in India. Jago was forced to shoot an innocent man as he quickly transformed into another of the beasts in front of his eyes. The man turned out to be Ellie Higson's brother. (AUDIO: The Bloodless Soldier)
Jago and Litefoot were forced to resort to bodysnatching as they tried to discover the mystery of a resurrecting man. He was almost drowned in the Thames after hearing too much about the Far-Off Travellers, organised by Doctor Tulp. (AUDIO: The Bellova Devil)
He later became trapped in an unusual cabinet, which held the souls of the future inside. Along with Ellie Higson's help, he managed to escape. (AUDIO: The Spirit Trap)
Litefoot and Jago met Dr Tulp again, where they discovered that he had the ability of astral projection, and could take knowledge from the future and use it for profit. Where they found that Tulp was mining uranium and constructing more mahogany mannequins to replace important politicians, as a means of making profit and seizing control of the world. However, Tulp had in fact been possessed by an entity who wanted to dominate the world. Although, Litefoot and Jago stopped his plans, and killed Tulp. (AUDIO: The Similarity Engine)
Litefoot and Sanders
Edit
Later, Litefoot began working with a man called Gabriel Sanders who helped him to investigate the cause of a number of mysterious murders, whose victims had been drained of blood. George made sure that Henry was kept away from the investigation to protect him. However, after Henry had intervened against George's wishes, they discovered that Sanders was the vampire killing the victims, and left him to die in a burning building. But not before he claimed Ellie as one of his victims. (AUDIO: Litefoot and Sanders)
Later, they both boarded a train carrying the body of Ellie to a cemetery, to investigate whether she would become a vampire too. They arrived in the cemetery, and discovered an associate of Sanders, Doctor Sibelius Crow. Discovering that he was attempting to experiment with and revive the dead. However, Crow was killed by the now vampire, Ellie. (AUDIO: The Necropolis Express)
Soon after this adventure, George and Henry foiled a plan by a group of harlequins, to infiltrate Henry's newly-owned New Regency Theatre, and drain the lifeforce from the audience. They found that their travelling caravan was, in fact, a living thing, and created the people who travelled within it. However, they both managed to destroy the caravan. It was after this adventure, that Litefoot managed to discover the cure for Ellie's vampirism, but also, that Sanders had survived being burnt to death in the building. (AUDIO: The Theatre of Dreams)
Litefoot and Jago both discovered Sanders plan to breed a new race of vampires, using the Ruthven family line. However, they managed to kill the only perfect vampire in the family, Lord Ruthven, as well as Sanders himself. After defeating Sanders, Leela arrived at Litefoot's house, while he and Jago were there, to tell them that she was sent from Gallifrey to investigate time distortions. (AUDIO: The Ruthven Inheritance)
Leela and the time traps
Edit
Liteoot, Jago and Leela discovered that due to the time distortion, a sailor named Johnny Skipton was removed from his own time, namely 1958, before he was supposed to die while sinking in his ship. This caused apparitions of the dead crew, to arrive in the 1890s to take Johnny away. To prevent the time distortion, Jago, Litefoot and Leela convinced Johnny to accept his fate, and departed back to his ship, to die. (AUDIO: Dead Men's Tales)
After this, they all discovered that the time distortion was causing a fictional character, called the Man at the End of the Garden, to become real, and caused the disappearance of the writer who created him. However, they managed retrieve the writer and defeat the Man. (AUDIO: The Man at the End of the Garden)
They team traced the next source of time distortion in the New Regency Theatre, where it was linking the 1890s time zone, with the 2011 time zone, bringing people from 2011 to the New Regency, and vice versa. This also caused the New Regency itself to come to life, but they stopped the time distortion, causing the theatre to return to normal, and return the people from 2011 to their native time. However, they discovered that Professor Payne was behind all the time distortions. (AUDIO: Swan Song)
As Payne arrived, the amount of time distortions rapidly increased, and threated to destroy the world. It was where they discovered that Payne was conducting experiments with time to bring his wife, Shania, back from the dead. This was part of an arrangement he made with beings called the Time Eaters. However, the Time Eaters betrayed Payne, and he helped Jago, Litefoot and Leela to destroy the Time Eaters, and return all objects out of their time zone to their proper place in time and space. Shortly after this, Litefoot and Jago were summoned by a man called Professor Claudius Dark. (AUDIO: Chronoclasm)
Kempston, Hardwick and Dark
Edit
Jago and Litefoot escaped Dark, believing him to be hostile, and decided to go to have a holiday in Brighton. Jago meet a singer called Abigail Woburn whilst in Brighton, and fell in love with her. They arranged to be married, but when he went to help George, who was possessed, when he returned, she had disappeared. After failing to find her, they returned to London. It was later discovered that she was a construction made by Mr Kempston and Mr Hardwick. (AUDIO: Jago in Love)
Dark later found Jago and Litefoot, and offered them tickets to see the new Oscar Wilde play. Where they had an adventure with Wilde, and a man called Gadd hired to kill him. It was after saving Wilde, that Jago and Litefoot discovered that two men, Mr Kempston and Mr Hardwick hired Gadd, and that they were Professor Dark's enemies. (AUDIO: Beautiful Things)
Jago and Litefoot tried to escape from Mr Kempston and Mr Hardwick by boarding a train, which was their intention in the first place. Discovering that the train was caught in a time loop, in an attempt to trap them. However, thanks to Leela, Ellie and Dark, they both were freed. It was here that Dark revealed his true identity, as the Sixth Doctor. (AUDIO: The Lonely Clock)
They all discovered that Mr Kempston and Mr Hardwick were constructs created by a Temparon ship using sand to form bodies, which had crashed to Earth, as a result of Payne's time experiments. However, Jago, Litefoot, Leela and the Doctor managed to dissipate the bodies of Mr Kempston and Mr Hardwick with water, effectively killing them. After this, Leela returned to Gallifrey, and they were invited to join the Doctor as his companions aboard the TARDIS. They eagerly accepted the offer, though Jago began to suffer from motion sickness on his first trip. (AUDIO: The Hourglass Killers)
Travelling through time
Edit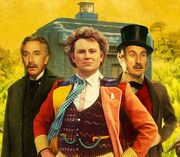 On their first trip through space and time, Jago and Litefoot arrived on Venus in the far future, where they discovered the corrupt Venusian Queen Vulpina was imprisoning an alien race called the Thraskin. However, with the Doctor's help, they defeated Vulpina and released the Thraskin, resulting in a peaceful treaty between the Thraskins and Venusians. Jago, Litefoot and the Doctor then left Venus. (AUDIO: Voyage to Venus)
Although they intended to return to London, the TARDIS arrived in the Roanoke Island, 1590, and were held hostage by a local tribe of Native Americans. They discovered that the tribe were being terrorised by a group of ethereal children, who had been present for four hundred years. Whenever they kidnapped natives, they would leave behind the word Croatoan, inscribed in the place where they once were. Jago, Litefoot and the Doctor discovered that Croatoan was an island, which they intended to explore, but not before Henry himself was kidnapped. When they arrived on Croatoan Island, they found Henry, and discovered the TARDIS, which had been on Croatoan for four hundred years. When they found Henry's captor, he revealed that he was Sir Walter Raleigh, who had discovered the TARDIS, while George and the Doctor were venturing to Croatoan. After tampering with the controls, Raleigh travelled back four hundred years, and encountered a group of alien beings, who would later become the children who had terrorised the tribe. He taught them how to live and hunt, and in return, they extended his life. However, the Doctor managed to communicate with Walter in the TARDIS, four hundred years prior, and prevent him from travelling in the TARDIS. This then caused the alternative Walter to disappear, and the aliens would never have terrorised the tribe. After restoring the timeline, the Doctor deposited Jago and Litefoot back in London. However, after the Doctor left, they discovered that he had left them stranded in London on 21 February 1968. (AUDIO: Voyage to the New World)
Stuck in the sixties
Edit
Soon after, Jago and Litefoot discovered Ellie was still alive, as an effect of the vampire curse she still had. Jago eventually became a very famous figure on television when he met Dectective Inspector Dave Sacker. Jago and Litefoot told him the circumstances which lead them to their arrival in the 1960s, just in time for all of them to foil a plan to hypnotise the nation using a mystical statue and Jago's new television show. The plan was foiled by using a psychic crystal which Jago picked up on Venus. It was after the adventure that Jago and Litefoot met a performer on Jago's show, Guinevere Godiva. (AUDIO: The Age of Revolution)
Jago and Litefoot also stopped an alien being and a mad guru from killing people by eating food containing the aliens offspring. The guru believed the alien was a god, and the aliens way of reproduction was by laying eggs in it's victims and eating them from the inside out. (AUDIO: The Case of the Gluttonous Guru)
Jago and Litefoot also discovered a book which was created by Thomas Bloodchild as a means of preserving his life essence inside it's pages. After several people attempted to steal the book to achieve immortality, Bloodchild was resurrected, but quickly destroyed again by Jago and Litefoot. After this encounter, they visited a crypt where they discovered several unusual artefacts, which included the time cabinet, containing a murderous Mr Sin. (AUDIO: The Bloodchild Codex)
However, they promptly escaped from Sin, and recruited Sacker to investigate the crypt with reinforcements to discover that all the artefacts had vanished. Later on, during Jago's show, Guinevere Godiva made Ellie vanish, and held her to ransom, which led them the rendezvous point, the House of the Dragon. There, Godiva revealed she had reconstructed Mr Sin and the key to the time cabinet, which she intended to use to recreate Magnus Greel from the psychic imprint left in the key, using Jago's Venusian crystal. However, Godiva needed a large quantity of energy to start the process, so Mr Sin betayed her, put her in the catalytic extraction chamber and used her life energy as power, killing her. Successful, Greel's essence possessed Sacker, killing him, but giving Greel life. However, Greel was killed when Ellie stood in the extraction chamber and overrloaded his intake of life energy, due to her unnatural lifespan. Using the time cabinet, Jago and Litefoot both departed 1968, arriving back in 1893. But immediately upon their arrival, they were greeted by a mysterious man calling himself the Colonel. (AUDIO: The Final Act)
Return to Victorian London
Edit
In 1894, Jago spent time with his sister in Brighton after a bout of dyspepsia. (PROSE: The Bodysnatchers)
Ten years after their first encounter, the Fourth Doctor returned to Jago and Litefoot's native time with his new companion, Romana I. With their combined effort, they investigated the connection between an alien justice robot crashing to Earth, and a Victorian vigilante called the Pugilist. (AUDIO: The Justice of Jalxar)
Later life
Edit
In 1968, Litefoot read records indicating that Jago died sometime in the 20th century. (AUDIO: The Case of the Gluttonous Guru) Jago was long dead by the time that the New Regency Theatre, which he had owned and operated in the 1890s, was destroyed in the Blitz at 8:47 p.m. on 12 October 1940. (AUDIO: Swan Song)
Behind the scenes
Edit