Howling:TARDIS wardrobe
Talk

0
32,722
articles in progress
Howling:
→
Howling archive
→
The Howling archives
→ TARDIS wardrobe
This thread has been archived.
Please create a new thread on
The Howling
if you want to talk about this topic some more.
Please
DO NOT
add to this discussion.
I was just editing the Doctor's TARDIS page. I was looking at the image below. On the left hand side, is it just me or is that the Fourth Doctor's scarf and his hat as well? –
The preceding unsigned comment was added by
The Thirteenth Doctor
(
talk
 • 
contribs
) .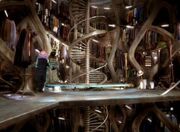 I seem to remember official sources (commentary? Confidential?) revealing that every previous Doctor's clothing was hidden somewhere in that Wardrobe set. Rob T Firefly 01:44, June 14, 2010 (UTC)