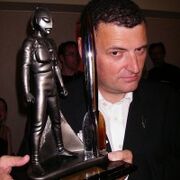 Established in 1953, the Hugo Awards are awarded to the best science fiction or fantasy works and achievements of the previous year. Nominees and winners are voted for by members of the World Science Fiction Society, and the awards themselves are presented at the annual World Science Fiction Convention over a number of various categories.
Dramatic presentation
Edit
The Doctor Who Universe has had the most success in the category of "Best Dramatic Presentation, Short Form", which is awarded to "a dramatised production in any medium", which generally lasts less than 90 minutes. [1]
Doctor Who itself has been nominated every year since its revival, including multiple nominations from 2006 to 2014, with a total of six wins. Torchwood also received a nomination for Captain Jack Harkness, and the 50th Anniversary stories An Adventure in Space and Time and The Five(ish) Doctors Reboot were both nominated in 2014.
Steven Moffat in particular has had unparalleled success in this category. As an individual writer he has been short-listed fifteen times. Of these, he received two nominations in both 2011 and 2014, and in 2013 he had written three of the five nominees. He has also won the award four times, including three consecutive wins for his first three televised stories.
The 2016 award was won by an episode of Jesica Jones, a TV series which featured David Tennant as a regular cast member.
| Year | Doctor Who Related Nominees | Winner |
| --- | --- | --- |
| 2006 | Dalek, and Father's Day | The Empty Child/The Doctor Dances |
| 2007 | School Reunion, and Army of Ghosts/Doomsday | The Girl in the Fireplace |
| 2008 | Human Nature/The Family of Blood, and Captain Jack Harkness | Blink |
| 2009 | Silence in the Library/Forest of the Dead, and Turn Left | Dr. Horrible's Sing-Along Blog |
| 2010 | The Next Doctor, and Planet of the Dead | The Waters of Mars |
| 2011 | Vincent and the Doctor, and A Christmas Carol | The Pandorica Opens/The Big Bang |
| 2012 | The Girl Who Waited, and A Good Man Goes To War | The Doctor's Wife |
| 2013 | Asylum of the Daleks, The Angels Take Manhattan and The Snowmen | Game of Thrones: Blackwater |
| 2014 | The Name of the Doctor, The Day of the Doctor, An Adventure in Space and Time, and The Five(ish) Doctors Reboot | Game of Thrones: The Rains of Castamere |
| 2015 | Listen | Orphan Black: By Means Which Have Never Yet Been Tried |
| 2016 | Heaven Sent | Jessica Jones: AKA Smile |
Related work
Edit
The only other category in which the Doctor Who Universe has won a Hugo Award is for the "Best Related Work", which is awarded to "work related to the field of science fiction, fantasy, or fandom". [2] This was for the reference book Chicks Dig Time Lords in 2011.
Chicks Unravel Time, and Queers Dig Time Lords also received nominations in 2013, and 2014 respectively.
Graphic story
Edit
Paul Cornell and Jimmy Broxton's The Girl Who Loved Doctor Who was nominated for a 2014 award in the "Best Graphic Story" category, which is given to a "science fiction or fantasy story told in graphic form".[3]
This makes Cornell the only writer to earn Doctor Who nominations in two separate categories. He previously wrote Father's Day and Human Nature/The Family of Blood, which received nominations for the best Dramatic Presentation, Short Form in 2006 and 2008 respectively.
Non DWU winners
Edit
As well as the award winning episode The Doctor's Wife, Neil Gaiman's writing has also achieved five other Hugo Awards, as well as a further nomination. These have all been awarded over five separate categories: "Best Short Story", "Best Novel", "Best Novella", "Best Related Work", and "Best Graphic Story". The 2008 award for "Best Dramatic Presentation, Long Form" was also won by the film Stardust, which was adapted from his novel of the same name.
Other contributors who have won a Hugo Award for non-DWU works include Harlan Ellison (multiple, 1966-86), Jane Espenson (Dramatic Presentation, Short Form, 2003), and Alan Moore & Dave Gibbons (Other forms, 1988). Nominees include Douglas Adams (Dramatic Presentation, 1979), and Michael Moorcock (Professional Magazine, 1968-69)
Footnotes
Edit
Ad blocker interference detected!
Wikia is a free-to-use site that makes money from advertising. We have a modified experience for viewers using ad blockers

Wikia is not accessible if you've made further modifications. Remove the custom ad blocker rule(s) and the page will load as expected.