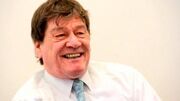 Ian Cullen (born 20 October 1939)[1] played Ixta in the Doctor Who television story The Aztecs. In 2012, he expressed a desire to return to the programme. He later played Nadeyan in the Big Finish Doctor Who audio anthology Dark Eyes.
Cullen's other credits included roles on Dr. Finlay's Casebook, Redcap, Department S, Blake's 7, Return of the Saint, Sorry! and The Bill. He also had regular roles as Warren Kent on Emergency – Ward 10 (1966-67), Geordie Watson on When the Boat Comes In (1977, 81) and Angus Hart on Family Affairs (1997-99). However, he will be best remembered for playing PC/Det. Con. Skinner in over two hundred episodes of Z-Cars from 1969-75.
Film appearances included the radio operator Steinman in Voyage of the Damned (1978) and Baron Sterling in Dawn of the Dragonslayer (2011).
External links
Edit
Footnotes
Edit
Ad blocker interference detected!
Wikia is a free-to-use site that makes money from advertising. We have a modified experience for viewers using ad blockers

Wikia is not accessible if you've made further modifications. Remove the custom ad blocker rule(s) and the page will load as expected.