Ad blocker interference detected!
Wikia is a free-to-use site that makes money from advertising. We have a modified experience for viewers using ad blockers

Wikia is not accessible if you've made further modifications. Remove the custom ad blocker rule(s) and the page will load as expected.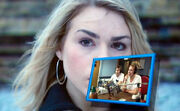 An in-vision commentary is commentary in which the participants are filmed and the resulting video dropped into the video of the episode on which they were commenting. This lets the viewer divine extra meaning by reading the facial expressions of the participants as they speak. It also overcomes the occasional problem encountered on audio commentaries of participants making visual references. Such commentaries were a major feature of the series 2 box set, but they were not extensively used thereafter until the series 5 box set.
A form of "video commentary" was also later used on the official Doctor Who website, as a part of the Adventure Calendar series. These commentaries differed from those on the DVD boxset, in that they were simply recordings of the commentary participants; no footage from the actual episodes was included. Indeed, most of these "in-vision commentaries" were later repurposed as simple audio commentaries in the podcast series of commentaries used in the RTD era or on the DVD box sets. Nevertheless, they were labelled "in vision commentary" on their respective title cards.
| Series | Episode | Participants | Where located |
| --- | --- | --- | --- |
| 2 | The Christmas Invasion | Russell T Davies, Julie Gardner, Phil Collinson | DVD boxset |
| | New Earth | Russell T Davies, David Tennant, Phil Collinson | 2006 Adventure Calendar (day 6) |
| | Tooth and Claw | David Tennant, Derek Riddell, Simon Winstone | 2006 Adventure Calendar (day 23) |
| | The Girl in the Fireplace | David Tennant, Sophia Myles, Phil Collinson | DVD boxset |
| | The Age of Steel | Graeme Harper, Nick Briggs, Paul Kasey | DVD boxset |
| | The Impossible Planet | David Tennant, Will Cohen, Shaun Parkes | DVD boxset |
| | Doomsday | David Tennant, Billie Piper | DVD boxset |
| | Doomsday | Russell T Davies, Julie Gardner, Phil Collinson | 2006 Adventure Calendar (day 18) |
| 3 | Gridlock | Russell T Davies, David Tennant, Dave Houghton | 2007 Adventure Calendar (day 11) |
| | The Sound of Drums | Freema Agyeman, Gugu Mbatha-Raw, Trevor Laird | 2007 Adventure Calendar (day 22) |
| 5 | The Eleventh Hour | Steven Moffat, Beth Willis, Piers Wenger | DVD boxset |
| | Victory of the Daleks | Mark Gatiss, Nicholas Briggs, Barnaby Edwards | DVD boxset |
| | The Time of Angels | Karen Gillan, Steven Moffat | DVD boxset |
| | The Vampires of Venice | Jonny Campbell, Toby Whithouse, Alex Price | DVD boxset |
| | Cold Blood | Ashley Way, Alun Raglan, James DeHaviland | DVD boxset |
| | The Big Bang | Toby Haynes, Karen Gillan, Arthur Darvill | DVD boxset |