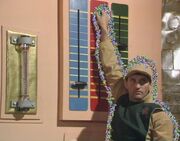 The Induction Therapy Section was the area of the Company's Correction Centre in which prisoners' brains were prepared so that the pain of the subsequent torture would be intensified.
The Fourth Doctor was taken to the section after his arrest. There he met Bisham, a fellow prisoner. The Doctor managed to lay a trap in the controls used for the equipment which injured a worker and temporarily disabled the system. (TV: The Sun Makers)
Ad blocker interference detected!
Wikia is a free-to-use site that makes money from advertising. We have a modified experience for viewers using ad blockers

Wikia is not accessible if you've made further modifications. Remove the custom ad blocker rule(s) and the page will load as expected.