Jago and Litefoot
Talk

0
37,351
articles in progress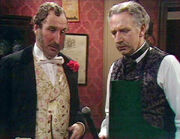 Jago and Litefoot is an audio series from Big Finish Productions. The stories involve Henry Gordon Jago and George Litefoot, characters first introduced in the Doctor Who story The Talons of Weng-Chiang. In the series, they solve mysteries involving paranormal or alien phenomena in 1890s London. Christopher Benjamin, Trevor Baxter and Conrad Asquith reprise their roles as Jago, Litefoot and PC Quick (now a sergeant). They are joined in the regular cast by Lisa Bowerman as barmaid Ellie Higson.
In order to test the market, Companion Chronicles story The Mahogany Murderers served as a pilot episode for the series and, after a favourable reception, a season of four stories were announced for release as a boxed CD set and MP3 downloads on 30 June 2010.[1][2] Weeks before the release of the first series, a second series was confirmed for release in January 2011.[3] Continual popularity saw a third series begin recording in August 2010 for a June 2011 release, and a fourth and a fifth series were then confirmed for release in 2012 and 2013 respectively.[4] In July 2012 a sixth and seventh series were confirmed for release in late 2013 and early 2014 respectively.[5]
Series one
Edit
Series two
Edit
Series three
Edit
Series four
Edit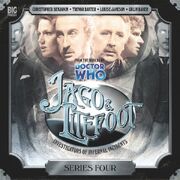 Special releases
Edit
Series five
Edit
Series six
Edit
Series seven
Edit
A four CD boxset scheduled to be released April 2014.
Series eight
Edit
A four CD boxset scheduled to be released December 2014.
External links
Edit
Footnotes
Edit
Big Finish Jago and Litefoot audio series
Series One
Series Two
Series Three
Series Four
Specials
Series Five
Series Six