Ad blocker interference detected!
Wikia is a free-to-use site that makes money from advertising. We have a modified experience for viewers using ad blockers

Wikia is not accessible if you've made further modifications. Remove the custom ad blocker rule(s) and the page will load as expected.
This page's name needs changing. Now.
Proposed new name: Jago & Litefoot
Have links been moved? no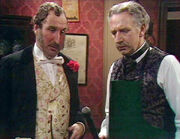 Jago & Litefoot is an audio series from Big Finish Productions. The stories involve Henry Gordon Jago and George Litefoot, characters first introduced in the Doctor Who story The Talons of Weng-Chiang. In the series, they solve mysteries involving paranormal or alien phenomena in 1890s London. Christopher Benjamin, Trevor Baxter and Conrad Asquith reprise their roles as Jago, Litefoot and PC Quick (promoted to Sergeant Quick, and subsequently to Inspector). They are joined in the regular cast by Lisa Bowerman as barmaid Ellie Higson.
A Companion Chronicles release entitled The Mahogany Murderers was released as a standalone story, but served as a backdrop pilot for a potential series. After favourable reception, a season of four stories were announced for release as a boxed CD set as well as digitally on 30 June 2010.[1][2] Weeks before the release of the first series, a second series was confirmed for release in January 2011,[3] and continual popularity saw a third series begin recording in August 2010 for a June 2011 release.[4] The series subsequently adopted a bi-annual release pattern, with eleven series having been released so far.[5][6]
On 9th January 2016, a twelfth series was confirmed for release in April 2016.[7]
Jago & Litefoot releases Edit
Series 1
Edit
Series 2
Edit
Series 3
Edit
Series 4
Edit
Series 5
Edit
Series 6
Edit
Series 7
Edit
Series 8
Edit
Series 9
Edit
Series 10
Edit
Series 11
Edit
Series 12
Edit
Other Jago & Litefoot releases Edit
Two stories, Voyage to Venus and Voyage to the New World, take place between series 4 and 5 of Jago & Litefoot. The CDs were released with reversible covers depicting the discs as either special Doctor Who releases numbered 1 & 2, or as Jago & Litefoot releases numbered 4.5 & 4.6.
The special release The Worlds of Doctor Who was a crossover of Big Finish's Doctor Who spin-off ranges. Jago and Litefoot were featured in Mind Games.
Jago and Litefoot also appeared in Fourth Doctor Adventures audio story The Justice of Jalxar.
Benjamin & Baxter was an audio documentary featuring interviews with Christopher Benjamin and Trevor Baxter.
Jago and Litefoot appeared in Stage Fright, one of the stories in The Sixth Doctor: The Last Adventure.
The Haunting was one of Big Finish's first releases featuring elements from the new series of Doctor Who, being released between series 10 and 11.
Cover gallery
Edit
Footnotes
Edit
External links
Edit